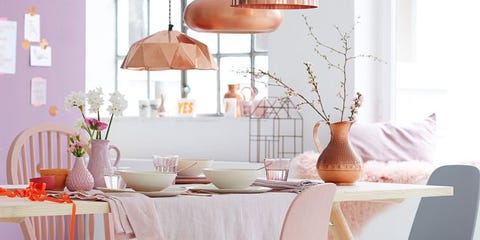 Millennial pink, two-toned cabinets, and brass hardware are all going to have a serious moment in 2018. But, similarly, there are plenty of trends also on the decline. We asked some of our go-to designers and experts from Trulia's Design Panel to fill us in on which decor trends are losing steam. While we may not agree with all of them (say it ain't so, granite!), we understand why some people are moving away from these styles.
Edison bulbs and exposed track lighting have been one of the biggest trends in lighting in recent years, but designer Hannah Crowell of Crowell & Co. told Trulia it's finally time to let it go. "I am a lover of all things vintage and appreciate a nod to the past, but it just became too overly saturated," Crowell says. David Charette of Britto Charette agrees: "There's no reason to have exposed track lighting; it can be recessed in drywall for a much cleaner and aesthetically pleasing look."
Even though this material is in just about every kitchen these days, people are starting to favor countertops that are more versatile and low-maintenance, like quartz. "Granite is durable, I will give it that, but it lacks the beauty of marble or the sleekness of quartz," Crowell told Trulia.
Simply put: "Bamboo flooring is out, out, out," Jay Britto of Britto Charette told Trulia, who explains that this material has low durability and has been oversaturated in the industry. Another reason: Bamboo was once hailed as an eco-friendly flooring option, but concerns have been raised about the negative effects it has on biodiversity and carbon emissions. Say no more.
"Something that looks great in photos, but not in real life, is open shelving in a kitchen. I don't have that kind of space to just have décor items stacked on top of each other," says TV personality and designer on the new season of Trading Spaces, Sabrina Soto.
Thanks to Pinterest, millennials are all about embracing DIY ways to improve their homes. However, sometimes this approach is less than appealing. "Repurposing items like egg cartons and toilet paper rolls makes your space look junky," Layne Brookshire of Ms. Placed Professional Organizing told Trulia.
"Rose gold is finally gone," says Genevieve Gorder, a designer on the upcoming Trading Spaces reboot, of the metal that's reigned supreme for years. "People are moving toward more of a mixed metal palette and more muted colors."
Apparently, there is too much of a good thing — even when it comes to rustic, eco-friendly reclaimed wood. "I think we have been phasing this one out for a bit and I am hopeful this trend continues," Crowell told Trulia.
No matter how much you love the word "groovy," next year is when psychedelic, '70s-inspired wall hangings are officially over. "These guys had a dormant period from around 1980 to last year, and I think they are headed back into hibernation," Crowell told Trulia.