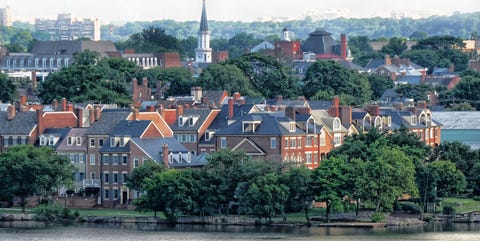 Disneyland might just be the Happiest Place on Earth, but it lost out on the title of "Best Place to Go" this year to a lesser-known locale: Alexandria, Virginia.
The city located just outside of Washington D.C. ranked highest in Money magazine's survey on the ultimate travel destinations for 2018. The publication considered "more than 32,000 data points in total from dozens of sources" in selecting its picks. The rankings weighed factors like cost, customer satisfaction, and trends, with all signs pointing to Alexandria as the top place for a domestic vacation.
While this time-honored city may not include a Splash Mountain or Jungle Cruise, its quaint character will win you over in a heartbeat. Here's why it belongs on your bucket list this year:
It's home to a renowned art center.
Like the name suggests, the Torpedo Factory Art Center once produced naval munitions. Since the '80s, it's instead housed more than 80 artist studios, showcasing painting, ceramics, photography, jewelry, stained glass, printmaking, and sculpture.
EXPLORE NOW

And a legendary music hall.
Dave Matthews, Mary Chapin Carpenter, Emmylou Harris, and Vince Gill have all performed at the Birchmere. The venue hosts live shows almost every single night.
Find Tickets

It's a stone's throw from Mount Vernon.
George Washington's famous estate sits just a few miles outside of the city limits. The mansion and expansive grounds appear just as they did over 200 years ago.
EXPLORE NOW

Stay in Alexandria and you'll pay almost half of what you would in the nation's capital, according to Hotels.com. You're only a quick Metro ride away from all of the museums and history D.C. has to offer.
EXPLORE NOW

You can see the iconic memorial from almost anywhere.
This distinctive tower is the George Washington Masonic Temple, a national landmark fashioned after the Lighthouse of Alexandria in ancient Egypt.
EXPLORE NOW

Plus, there are some gorgeous river views.
Alexandria is located on the Potomac River, with boat cruises, waterfront dining, and scenic bike paths all awaiting visitors.
EXPLORE NOW

But the real star is Old Town.
This historic neighborhood in downtown Alexandria is the definition of quaint. Money's must: a trip to Hank's Oyster Bar during happy hour on a Friday night.
EXPLORE NOW

The houses belong on your Instagram.
Have you ever seen anything so charming?
Brick sidewalks line the cobblestone streets.
According to local legend, the cobblestones on the Captain's Row arrived from England in ships as ballast. Historias suspect they actually came from the Potomac, but the effect is just as quaint.
Everyone flies American flags.
If you couldn't tell they're very into American history here.
There's tons of shopping.
Over 200 restaurants and boutiques fill the neighborhood, with many located on the famous King Street. Specialty museums like the Stabler-Leadbeater Apothecary Museum also belong on the itinerary.
EXPLORE NOW

Christ Church is another time capsule.
The historic house of worship is one of few existing Colonial churches in the area, and the sanctuary still has a pew where George Washington sat.
EXPLORE NOW

Even the City Hall is picturesque.
It's located on Market Square, the site of a weekly farmers market, the annual holiday tree lighting, and other activities throughout the year.
Basically you have to go.
Luckily there's still time to book a trip before cherry blossom season!
EXPLORE NOW