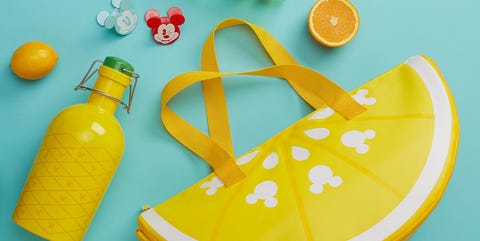 It happens to the best of us: You've perfectly curated your Pinterest "For The Home" board, determined to make your house the envy of every blogger who'll never see it. And then — oh, then — you see something so hopelessly cute, so delightfully, stupidly twee, that you cannot resist its allure. You just need it.
That's what happens to sane adults when they see Disney's home line. It doesn't matter how cool you are; it'll draw you in. And right now, Disney's having its absurd, "Twice Upon A Year" sale, where it slashes its prices to Walmart levels. Lest you find yourself sucked into a vortex of red-and-white polka dots and aww-shucks treacly-ness, I've culled through all 1,280 items for sale to bring you the top picks, worthy of your attention. And wallet. You're welcome ... I think.
1
Mickey and Minnie Mouse Watermelon Beach Towel
OF COURSE Mickey got in on the round towel trend. And OF COURSE the end result is so freaking adorable you can overlook the fact that you're fully grown and draping yourself in cartoon characters.
2
''Mickey Longboard Wall Art III'' by Ethan Allen
So what if you never quite got the hang of skateboarding? Hang this design on the wall, and you can officially say you've nailed it. At least to anyone who's never witnessed your complete and utter lack of coordination.
3
Mickey Mouse Hiya Rug by Ethan Allen
This 6-foot-by-9-foot rug is perfect for a kid's room, but the neutral color combo and hidden Mickeys mean you could get away with it in a more grown-up space, like an office or den in desperate need of a little uh, character.
4
Mickey Mouse Lemon Wedge Cooler
At $8 — one-third of its usual price — this cooler insulated bag is a steal. It looks like a giant lemon wedge, with Mickeys in place of some of the seeds. If this doesn't inspire you to finally go on a picnic (or just pack that picnic-sized lunch you've been dreaming of bringing to work), I don't know what will.
5
Walt Disney World Espresso Cup Set
disney
shopdisney.com
$80.00
Souvenir cups get a chic upgrade, thanks to these retro-inspired espresso mugs. Each one features a different design for the four Walt Disney World parks: Magic Kingdom, Epcot, Hollywood Studios, and Animal Kingdom.
Preach, sister. Then write down all the reasons why you're so glad it's almost Tuesday in this black-and-gold, 150-page journal.
7
Customizable Ariel Hooded Towel
Where was this when I was three?! This hooded towel gives you instant mermaid hair, no Dinglehopper necessary (BTW, did you know the theme parks used to for that very purpose?!).
For an extra $6, you can have a kid's (or grown-*ss man or woman's) name embroidered on it.
8
Haunted Mansion Bottle Stopper
We all know people who'll defend to the death the fact that Haunted Mansion is Disney's best ride — and plenty of people who love vino. So, drawing the Venn diagram to find the people who'll go batsh*t over this bottle stopper shouldn't be too hard, should it?
Just like that, you're a gift-giving evil genius.