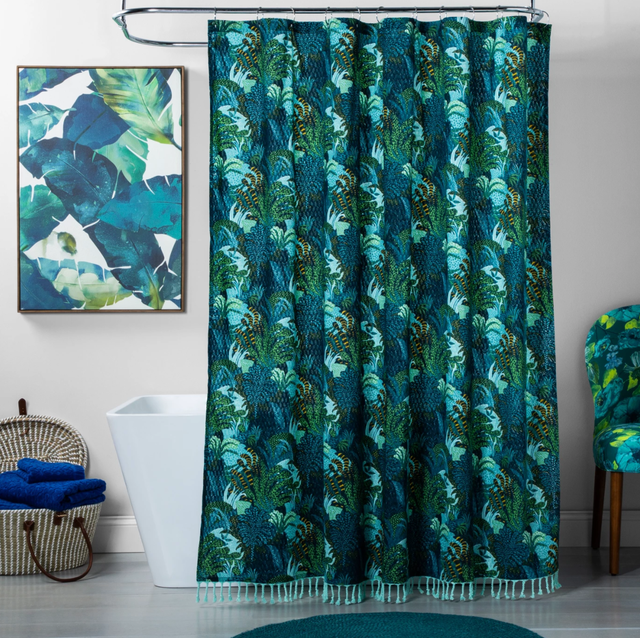 When you think of shower curtains, does your mind automatically conjure up the image of a shower covered in fish print? These shower curtains were made to keep your floors dry and your style on point, all while skipping the traditional underwater motifs that you'd typically associate with bathroom decor. From prints that look more like artwork to bold florals, simple stripes, and tons of tassels (fringe is the trend to watch!), you've never seen shower curtains like these before.
1
Jardin Des Plantes Shower Curtain
Ruan Hoffmann
anthropologie.com
$108.00
This whimsical shower curtain only looks like water's raining down outside, but don't worry—there won't be any on your bathroom floor.
Fish print may be out, but if you still love the tropical vibe, this all-over palm print shower curtain is a great option.
3
Organic Cloud Shower Curtain
The print on this shower curtain is so amazingly intricate, you'd think it was an actual illustration.
4
Jungle Print Shower Curtain
Opalhouse™
target.com
$24.99
This bold blue and green shower curtain with fringe is just about the most stunning way to do jungle print.
urbanoutfitters.com
$39.00
Go a little fun and fruity with this papaya print shower curtain (or choose between bananas, charries, peaches, or lemons, if you prefer).
6
Berry Scalloped Shower with Tassels
Fringe is a big shower curtain trend lately, and this scalloped shower curtain—which is covered in berry-colored tassels—is proof.
7
Pineapple Pinstripe Shower Curtain
Tommy Bahama
perigold.com
$29.99
Keep things subtle but playful with this indigo and white pinstriped shower curtain which features tiny pineapples.
8
Sun Shower Orient Dream
Prefer a vinyl shower curtain? Try one of these transparent color-blocked options, with pink, blue, yellow, black, and clear colorways.
Keep it simple with gray stripes focused in the middle of an otherwise all-white shower curtain, and add some fringe detail at the bottom for something extra.
Anthropologie
anthropologie.com
$88.00
Yes, you can go floral in the bathroom. This shower curtain proves that big blooms are a big win.
11
White/Indigo Iswar Shower Curtain
Another simple option that goes beyond the basic: this otherwise all-white shower curtain not only features indigo detailing around the border, it also has an extra layer of fabric (complete with little tassels) on the top.
12
Margot Shower Curtain in Blush
matouk.com
$198.00
Small floral details also work well, as shown in this blush-colored shower curtain with a teeny-tiny botanical print.
13
Bathing Beauties Shower Curtain
urbanoutfitters.com
$39.00
Show off your fun, playful side with this bathing lady-covered shower curtain.
All-over stripes and fringe-embellished trim make this simple shower curtain a sleek choice.
15
Acanthus Indigo Shower Curtain
designersguild.com
$183.60
Big botanicals and insect accents definitely give tropical fish a run for their money on this shower curtain.
urbanoutfitters.com
$39.00
Little illustrated sloths give a whole new meaning to animal print on this shower curtain.