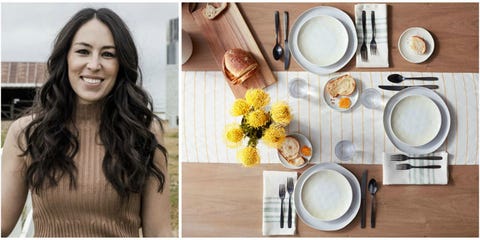 Ready for a home refresh to kick off 2018? If so, has got you covered. Her new is full of pieces that will add color and polish to your house, while her line of organizational items (calendars, storage, and office supplies) will leave you feeling ready to tackle whatever the new year brings—in her , of course. And here's the best part: almost all of the 140 new pieces cost less than $40. While the new lineup doesn't arrive in stores and online until December 26, here's your first look at the spring assortment.
$25
Just imagine how elegant this will look when it's filled with your favorite plant and displayed on your hearth, patio, or porch.

$35
Guests will never know this lush wreath isn't fresh, and you'll love that it lasts forever.

$15
Because every needs a dinner bell.

4
Blue Grid Stoneware Pitcher
$20
Terracotta, ivory, and navy blue hues beautifully complement one another on this multipurpose pitcher.
$10
A rustic wood and metal frame elevates a basic calendar.

$20
Whether you want to use 'em to house plants or make them the vessel for your next craft project (hello, !), these cloches can do it all.

7
Galvanized Metal House Plant Stand
$30
Perfect for bookshelves, entryways, fireplaces, and porches—you can store plants, candles, lanterns, firewood, and many more staples in this galvanized stand.

$25
Versatile, architectural pieces that add texture and interest to a room—like these woven items—are some of .

$12
Buy two and use one to store office or art supplies in your desk or craft room, and the other to house fresh greenery or blooms on your dining table.

$9
A little positivity, like the "you were made for this" message inscribed in this catchall tray, can go a long way.

11
Faux Leather Storage Bin
$35
Corral clutter in seconds with this luxe-looking bin.

$13
When your colander is this beautiful, there's no need to store fruit or veggies in another bowl. Just rinse and serve 'em in this pretty piece!

13
Blue Grid Stoneware Mug
$4
Make your morning ritual even more splendid with this beauty.

14
Exposed Bulb Brass Table Lamp
$50
The exposed bulb is a simple but special detail that makes this lamp stand out.

$25
You can also use this mailbox to house paperwork in your office.

$40
Give your family a place to store muddy boots with this piece you'll use season after season.