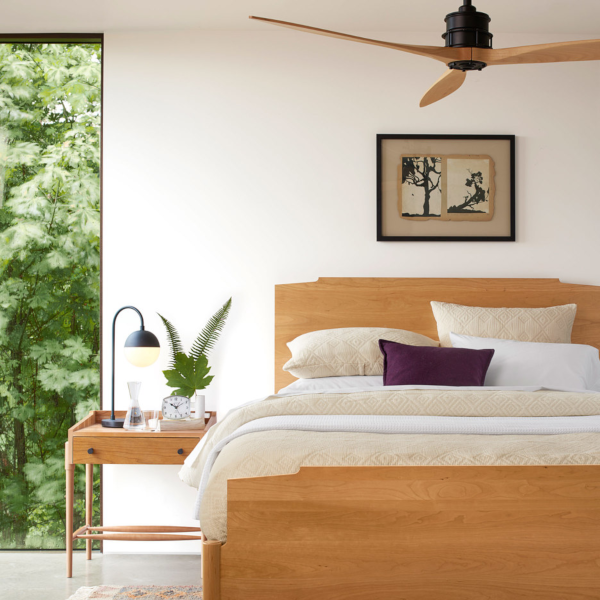 Ceiling fans tend to get a bad rap—while they're great at keeping the temperature down and the air flowing in your home, they're not always the prettiest things to look at. That's all about to change when you see these stunning options. Whether you want your room to feel like a tropical oasis or an ultra-sleek modern space, these ceiling fans have you covered. There's even a smart fan, if you've always wished you could control the breeze with your voice, not to mention an outdoor option for your porch, and just about every color and finish you can think of. You'll never look at ceiling fans the same way again.
1
Sonet Satin Brass Acrylic Blade Ceiling Fan
The clear acrylic blades on this satin brass-finished ceiling fan and LED lighting make this one of the sleekest fans you'll ever see. When they're spinning, you won't even see the blades.
2
Islander 5-Blade Ceiling Fan
Fanimation
amazon.com
$369.98
Go for a tropical vibe with this fan, which features five blades made with natural palm leaf (which you can also get in bamboo, carved wood, and more.)
3
Alexandrea Pendant 3-Blade Ceiling Fan
Trent Austin Design
wayfair.com
$449.99
For something a little different, try this globe-shaped pendant that houses a 3-blade fan inside.
4
Falcon 3-Blade Ceiling Fan
This ultra-modern, propeller-shaped ceiling fan comes in two metal finishes (galvanized and matte black) and three blade finishes, including natural, walnut, and matte black.
5
Casa Ecanto LED Ceiling Fan
Casa Vieja
lampsplus.com
$349.99
With an oil-rubbed bronze base and five dark walnut blades, this ceiling fan is a modern statement piece.
6
Light Wave LED Ceiling Fan
This modern, retro, 3-blade ceiling fan comes in silver, white, and distressed koa wood.
7
Romulus Low Profile Smart Fan
Want a fan that you can control with your Alexa or Google Home? Hunter Fan is the place to go, with this fan (and tons of other options) that looks breezy in white and blonde oak.
8
Epilogue Outdoor Ceiling Fan
For a fan that can work indoors or outdoors, try this simple white wet-rated ceiling fan that has you covered no matter where you put it.
Generation Lighting
circalighting.com
$815.15
To really make a statement, try this gray and pewter fan that packs a punch with more blades than you've ever seen on a standard ceiling fan.
10
Nola Black & Brass Ceiling Fan
With a lantern-inspired light and brass details, this flat black ceiling fan looks positively stunning.
11
i6 Brushed Aluminum Fan
For a cool industrial look, this new model from Big Ass Fans is perfect for any sized space with 60, 72, and 84-inch diameter options. It comes in four colors and can even be made weather resistant.
12
Subscribe for More Amazing Home Ideas