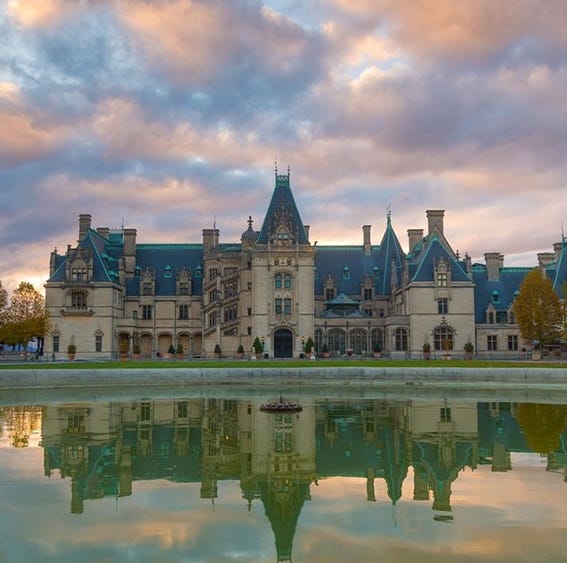 When style icon and heiress Gloria Vanderbilt died at age 95, the outpouring of grief to the woman herself—including a moving by her son, CNN's Anderson Cooper—and also to her storied family. The Vanderbilts were one of the wealthiest families in American history, and as great-great-granddaughter to Commodore Cornelius Vanderbilt, the 19th-century industrialist and railroad magnate (there's a reason why New York's famous Grand Central Terminal is located on Vanderbilt Avenue!) earned her a life of incredible privilege. Many of the Vanderbilt family's sumptuous homes are not just still standing but open to the public. Here are a few of the most famous, all worth a visit for their great beauty, and their deep history.
1
Vanderbilt Mansion National Historic Site; Hyde Park, NY
This imposing Beaux Arts–style mansion, from 1895 to 1938, is a true example of a Gilded Age country house. It has been designated a National Historic Site and sits on 200 acres preserved by the National Park Service.

An opulent bedroom inside the Vanderbilt Mansion, which is located in , New York, an idyllic Hudson Valley area that is also famous for its connection to the Roosevelts. Hyde Park is also the home of Franklin Delano Roosevelt's presidential library, home, and burial place.
3
The Breakers; Newport, RI
The grandest of Newport's famous "cottages," was the summer home of Cornelius Vanderbilt II, built in 1893 in the Italian Renaissance style. In addition to the usual house tour, check out "Beneath the Breakers," which explores the underground tunnels, boiler room, and basement to give a fascinating view of how emerging technologies like electricity changed daily life during the Gilded Age.

The 70-room mansion, now a National Historic Landmark, is the with approximately 300,000 visitors per year. It was named for the waves that continuously crash onto the cliffs below and is visible on the city's famous .
5
Marble House; Newport, RI
Another Vanderbilt "cottage" in Newport, was the summer home of Cornelius's brother, William Kissam Vanderbilt, who gifted it to his wife, Alva, for her 39th birthday in 1892.

Now also a National Historic Landmark, Marble House was designed by Richard Morris Hunt and modeled after the Petit Trianon at Versailles. Alva, a grand socialite, fancied it a "temple of the arts."
7
Biltmore House; Asheville, NC
The fairy-tale-like was the summer home of another of Cornelius's brothers, George Vanderbilt, and his wife, Edith. George began building it in 1889 after visiting the area with his mother and falling in love with the Blue Ridge Mountain landscape, visible in the distance.

The 250-room French Renaissance chateau includes a 90-foot-long Tapestry Gallery. It also boasts 35 bedrooms, 43 bathrooms, and 65 fireplaces, not to mention impressive gardens designed by Frederick Law Olmstead. The property also houses luxury lodgings, a winery, and more.
9
Suffolk County Vanderbilt Museum; Centerport, NY
Overlooking Northport Bay and the Long Island Sound, this Gold Coast mansion was the estate of William K. Vanderbilt II until his death in 1944. The Spanish Revival home, dubbed , is said to have been built by the New York City architecture firm of Warren & Wetmore—the same firm that designed and built Grand Central Terminal for William's great-grandfather Cornelius.

Truly a pool with a view. Tours of the mansion are available, and the property also features an extensive science museum—William was a natural-history enthusiast—as well as a planetarium and observatory.
The Vanderbilt family built much more than just homes for themselves! New York City's iconic (pictured) is a direct result of the original family scion's railroad-tycoon brilliance. The Commodore also dabbled in philanthropy, turning a small college in Tennessee into the venerable in 1873 with a $1 million endowment. And the world-renowned was founded by sculptor and patron of the arts Gertrude Vanderbilt Whitney—none other than Gloria's aunt.