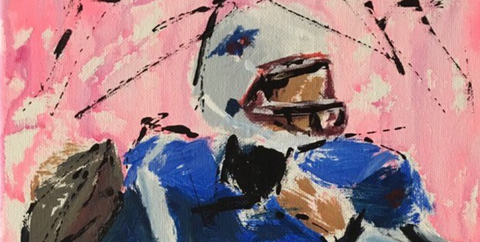 Super Bowl weekend is here, and it got us thinking: Is there sports decor out there that we would actually want to keep on our walls all year long?! Moreover, are there pieces that tell an authentic story or represent a favorite memory, while staying true to your decor style? We've discovered that the answer is an emphatic YES. Here's an assortment of wall art, with winning ways to show off your spirit and good taste. Go team!
printMEME
etsy.com
$44.99
One of the most inspirational voices of football is Vince Lombardi, and a quick search on Etsy finds a quote of his that resonates with everyone.
Vintage05
etsy.com
$35.00
Support your alma mater with a vintage framed championship poster. These make great birthday and graduation gifts, too.
Relive your glory days by having your own jersey framed, or that of an athlete you adore. With different frame options in black, white, and two wood finishes, you can match styles from rustic to mid-century.
NaraProject
etsy.com
$33.00
If you have ever thought your home is too chic for sports decor, this Parisian tennis poster might just prove you wrong!
Robby Becker
etsy.com
$17.00
I recently added a Robby Becker original of to my own gallery wall. His art is a fun and sophisticated way to brighten any home. In the spirit of the big game, here's a one-of-a-kind Tom Brady canvas that is a must-have for any real Patriots fan!
EncorePrintSociety
etsy.com
$9.95
Whether skiing or après ski is your winter "sport," a vintage resort print adds character and class.
7
Ballparks Scratch-off Chart
Not only is this art aesthetically pleasing, it's interactive! If you're into baseball, this is a great way to check off (and show off) every ballpark you visit.
Antiquephotoarchive
etsy.com
$10.00
Framing vintage photos or postcards is an authentic (and relatively easy) way to show team spirit all year long. Order a few to create a fun collage or add to an existing gallery wall.
PatentPrints
etsy.com
$29.99
For avid golfers, these chalkboard-style patent prints are not only attractive and architectural, but a reminder of the sport's evolution, too.
joebmapart
etsy.com
$80.00
If you're looking for a subtle way to pay homage to your team, why not frame a fun city map?! It's a great conversation starter and sneaky boast about your fave teams, like the Philadelphia Eagles and 76ers.