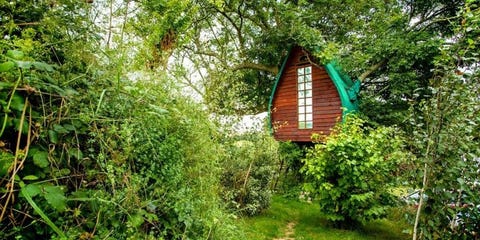 Staying in a house is officially passé. Airbnb already revealed that global travelers don't want boring accommodations, but that's especially the case when it comes to a "holiday homes" — or technically, holiday mills, tents, and towers.
Brits' favorite listings in their homeland (that's Scotland, England, and Wales if you need a refresher) are neither traditional nor extravagant. Instead, the most popular bookings are usually no bigger than a single room! Check out the locals' favorite (and unusual) picks for a memorable UK getaway.
[h/t Daily Mail
Climbing the wooden staircase to this elevated abode reveals a view of the neighboring sea and countryside. But pack light — the one-room perch will barely fit a carry-on.
Rent it on Airbnb »
It looks straight out of a fairytale, but this Cornwall cottage is very real and very cute. Squeeze through the quirky door and find yourself right at home.
Rent it on Airbnb »
The central room of this 19th-century apartment measures a whopping 39-feet high and features the original iron staircase.
Rent it on Airbnb »
Talk about a romantic getaway — this quirky Kent home is three stories of charm, with wooden beams criss-crossing the circular layout.
Rent it on Airbnb »
At first glance this Edinburgh flat may look like a boring apartment, but the bookshelf is actually the facade of a "bedbox chamber." The secret paneled door opens onto a cozy king-size bed.
[link href="https://www.airbnb.co.uk/rooms/860170" target="_blank" link_updater_label="external"]Rent it on Airbnb »
This is not your childhood campsite — the spacious teepee (pitched in the garden of a moated estate!) is kitted out with all of the amenities. The nearby shelter even has a sauna, ping-pong, and a wood-fired pizza oven.
Rent it on Airbnb »
The owners of this traditional shepherd's hut have already mapped out 12 countryside walks for an extra-warm welcome.
Rent it on Airbnb »