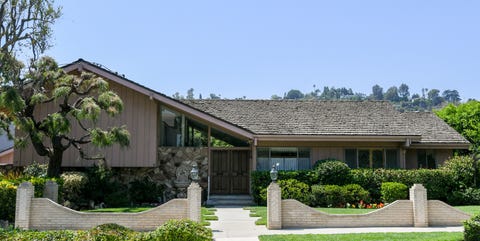 PG/Bauer-Griffin
Getty Images
Whether you tuned in each week to catch The Brady Bunch during the late '60s and early '70s, or you caught the reruns on Nick At Nite decades later, one thing's for sure: You couldn't get that catchy theme song out of your head. Just the mere mentioning of it may cause you to start involuntarily humming it.
Now, for the , the song has likely become HGTV's anthem as they recently purchased the iconic house — located at 11222 Dilling Street in Studio City, California — through . With plans to restore it "to its 1970s glory as only HGTV can," the house of the coolest blended family from TV's past won't be in its current state forever, so now's your time to peek inside. As you scope out this nearly 2,500-square-foot space, check out some fun facts you may not have realized about the house — and the show itself.
1
It's the second most-photographed home in the U.S.
2
It was used for exterior shots of the home.
According to , interior scenes were shot at a sound stage. The actual home only has three bedrooms, so we can only imagine how much sibling squabbling there would be if this were the Bradys' home IRL.
3
It has two master suites.
4
You'll be taken back to the '70s.
Every room has that retro vibe. Just in case you couldn't tell from the bedroom.
6
All rooms flow into the next.
While the finishes are a little dated, the open concept is very current and perfect for entertaining. I'm definitely loving the layout.
7
The lot is one of the largest in its neighborhood.
It is also located on the Los Angeles River, which gives the home "," according to the listing.
8
HGTV closed the deal on the home exactly 3 weeks from the first showing.
According to , "The first showing was on July 21. Offers were submitted on July 30, with the best final offer in on August 3. HGTV's bid was accepted the next day, with an August 11 closing."
9
Though HGTV ultimately bought the house, Maureen McCormick (AKA Marcia Brady) considered buying it herself.
In an , actress Maureen McCormick—who played the oldest Brady sister in the hit show—shared that she actually would have loved to buy it herself. "When the whole thing happened, I have to say that I really thought, 'Gee, I would like to buy that house,'" she said.
10
The cast asked people to help them source decor for the house.
Once HGTV started filming A Very Brady Renovation after purchasing the famous home, producers and cast members sent out an all-call for help sourcing recognizable items from the home. In a video released by the network, the six Brady kids pleaded for people's help to bring back the magic of their TV house. A full gallery of items they're looking for can be found .