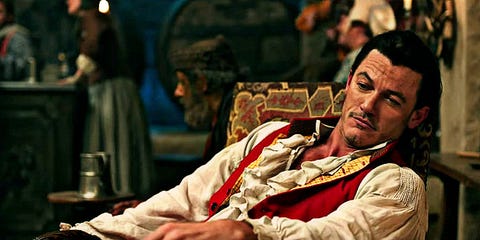 Actor Luke Evans has a pretty dark history with backyards, at least on screen. He starred in Girl On The Train, the one where Emily Blunt stares into his backyard every morning from her seat on the train until one day she notices his wife has gone missing (creepy). Then there's 2017's live-action remake of Beauty and the Beast, in which Evans plays Gaston, the jerk who leads an angry mob right through Beast's yard into his castle. But in real life, it's a different story.
Evans has a beautiful backyard, where he tends to his garden and throws parties on the regular. I talked to the star, who is currently in New York City promoting his latest role — narrator of Stella Artois's , an audio guide to savoring your beer — about his killer backyard parties. The good news is you can steal all of his ideas. Here's what you need:
2
A Large Ice Bucket (Or Two)
BirdRock Home Beverage Tub, $109.99

When I asked the actor what the drink situation is at his parties, the answer was simple: "A big ice bucket full of cold bottles." For your party, try a few ice buckets, with different drink options, scattered around the space.
OGGI 17oz Wine Glass Copper - Set of 2, $19.99

If you really want to impress your guests, offer them a great cocktail in addition to the drinks you're serving in your ice buckets. Evans says his favorite drink to make for friends is currently a Cidre Spritz made with Stella Artois. See the recipe below if you want to try it yourself.
Cidre Twist Spritz
5 oz of Stella Artois Cidre
1.5 oz Aperol
.5 oz Grand Mariner
1 oz Grapefruit Juice
Grapefruit Twist
4
Surround-Sound Speakers
Bose SoundTouch 10 Wireless Speaker, $199

Every great party needs some music, but how do you make sure everyone can hear your tunes while they're outside? The key, according to Evans, is to use multiple speakers. He uses Bose speakers, which are integrated throughout his garden and house, to create a cloud of sound. It's not overwhelming, though, considering his choice of music. Evans relies on Spotify for party playlists. "Discover Weekly is quite chill music, which often works quite nicely for parties and dinner parties," he says.
Ador Decorate Lantern, $24.99

Since every good party goes on well after the sun's gone down, I asked Evans how he lights his backyard. Not surprisingly, string lights aren't his go-to. "I have lantern lighting in the trees, and I also have old ship lantern lights on the wall. I wanted to give it a vintage feel," he says.
Hearth & Hand Square Floor Pillow, $49.99

When the garden lights are on, the party starts heating up. "I have a fireplace in the garden, and around that I have a big seating area that can seat like 20 people. Then I have big cushions for the grass, so there's always somewhere for everyone to sit," the actor explains.
CobraCo Copper Fire Pit, $205.06

Evans says his outdoor fireplace is the best thing about his backyard, adding that, "it's the place where we end up sitting at the end of the day." If you don't already have an outdoor fireplace, adding one could be a pricey renovation. However, fire pits are a budget-friendly alternative.