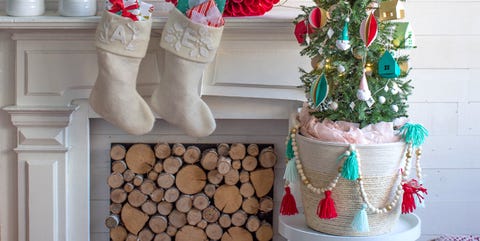 We know you probably have a generic Christmas tree stand hidden in a closet somewhere, but before you trim your tree this year, consider making a DIY version. It'll look totally unique, and can help blend your Christmas decor into your existing decor (rustic, modern, minimalist, etc.). Whether you've got wood-working skills or need something idiot-proof, we've got DIY options for you on this list.
Place a tiny tree in a rope-wrapped basket, then put the DIY stand on top of a table for height.
Get the tutorial at .
Perfect for a minimalist (but totally chic) Christmas set-up.
See more at .
A French-style basket or crate filled with colored ornaments is the country Christmas stand you need.
See more at .
Finally—a tree stand that won't kill your modern decor vibes.
Get the tutorial at .

5
Upside Down Wicker Basket
It's literally as easy as turning one of your storage baskets upside down.
See more at .
I mean a tree is a plant after all, right?
Get the tutorial at .
Add a sheepskin rug underneath and turn your living room into a winter wonderland.
Get the tutorial at .
Contain all the inevitable under-the-tree mess inside a giant wooden barrel.
See more at .
If you've got word-working skills, you need to make this rustic, simple DIY stand.
Get the tutorial at .
A Christmas tree on wheels means you can move it wherever you need to around your house.
See more at .