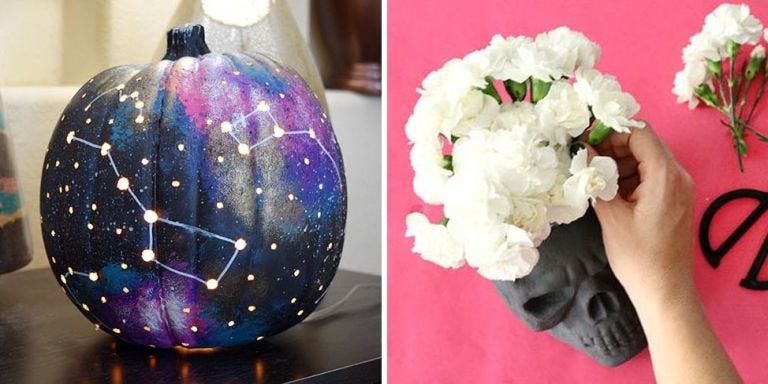 Dream a Little Bigger + Persia Lou
is the only time of year when most people want their homes to look creepy, freaky and even silly — which is why it's also the most fun time to decorate. If you haven't put your to the test yet, consider these ideas (which happen to be the most popular on Pinterest) your gold standard.
Not only are mini orange balloon pumpkins one of the of the season, but kids will love that they're filled with candy.
This space-inspired paint job paired with "constellations" is truly out of this world. Just make sure you have a drill before getting started. Check out more DIY .
Turn your table into a Halloween decoration with this genius, furry DIY that looks like it's straight out of Monster's, Inc.
If your succulents are your favorite part of your home, give them a spooky spin for Halloween by planting them in a skull. It's super simple, just like .
Halloween hosts, listen up: A coffin photo booth is the coolest (and creepiest) way to capture your guests' amazing costumes.
Instead of lighting up the front of your house with expected jack-o'-lanterns, try , which is guaranteed to leave trick-or-treaters (and their parents) in awe.
There's nothing better than mixing something gorgeous, which is why a skull vase is a must-have element for an unforgettable tablescape.
8
Glow-in-the-Dark Pumpkins
Even though most jack-o'-lanterns are lit from within, this bright trend pops from the outside. The best part: It's next to impossible to mess this craft up, just like the rest of .
All you need is a to create a ghost statue so eerie, you might freak out a few neighbors before the holiday is over.