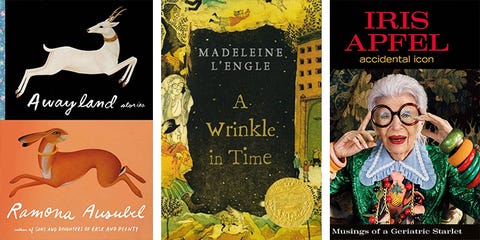 As we emerge from our winter haunts, it's time to refresh with some new stories. Here are the best new books to read this coming spring.
1
The Novel: "The Sparsholt Affair"
$19
In the latest from the brilliant British author Alan Hollinghurst (The Line of Beauty, The Swimming Pool Library), a family's story is charted over generations, from wartime Oxford to contemporary London, and told from a variety of charming, sometimes unreliable viewpoints. Come for the beautiful language, stay for the scandal, bohemian artists, and what passes as modern-day society.
2
The Memoir: "Wrestling with the Devil"
$18
Ngũgĩ wa Thiong'o earned global recognition for his stories Weep Not, Child; Petals of Blood; Wizard of the Crow, and most notably, Devil on the Cross. He wrote his latest, Wrestling with the Devil, while imprisoned in Kenya's maximum security jail, chronicling the challenges of living under constant surveillance and in isolation, but also the incredible strength of the imagination in creating life beyond captivity.

3
The Short Story Collection: "Awayland"
$17

Ramona Ausubel's collection — which features stories you might recognize from The Paris Review — spans as many characters as it does locations, which range from the tropics to the afterlife. While her stories chart our world and beyond, they also tenderly explore that which is nearest and most intimate to us: our own hearts.
4
The Coffee Table Book: India Hicks's "A Slice of England"
$45
Designer, model, and lifestyle guru India Hicks is back with another stunning coffee table tome, this one dedicated to the meaning of home. It's broken into two sections: the first looks at the famous homes and gardens of her parents, while the second is entirely about the author and her new country house in Oxfordshire. This book is beautiful, informative, and entirely envy-inducing.
5
The Style-Guide: Iris Apfel's "Accidental Icon: Musings of a Geriatric Starlet"
$23

It's by no mistake that Iris Apfel — collector, designer, muse — has become one of fashion's most recognizable characters. Through more than 100 vibrant photographs and anecdotes, you'll experience what it's like inside this eccentric's mind.
6
The Classic: "A Wrinkle in Time"
$4.64

Madeleine L'Engle's beloved novel follows heroine Meg Murry, her prodigy younger brother, and a fearless neighbor as they crisscross the universe in search of Meg's missing scientist father. Catch up on the book before you see this month's movie adaptation, from visionary director Ava DuVernay.