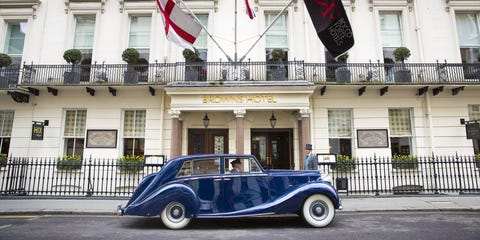 Downton Abbey may be fictional, but the high standards of luxury service in Great Britain are very real. As a long-standing hub for business, fashion and culture, London has become home to more historic, luxury hotels per square mile than any other city in the world. And, if you find yourself at a luxury hotel anywhere from Dubai to the Caribbean where napkins are placed in your lap, butlers are available on-call and a dinner table's dishes arrive to each seat in perfect unison, odds are they've modeled themselves after that astute English-caliber of service.
If it's good enough for British royalty, it will suit elite travelers the world over. Budget aside, this city's constantly growing list of accommodation options (and terrific ones at that), make it all too overwhelming to choose. Here, we narrow it down to give you the ultimate guide to London's luxury hotels.

We dubbed this hotel –and we mean it. This place is where traditional décor and modern convenience merge to meet guests' high standards, while leaving them with a personalized level of service most find addictive and unforgettable. "We really believe our attention to detail is second to none," shared the hotel's General Manager Paul Jackson. "We ensure that our attention to details and service touches give us the competitive edge; we respect our history but we don't live in it." Celebrities abound in this hotel, which can feel like the center of the universe during key cultural events like London Fashion Week, The Chelsea Flower Show, and royal weddings.
Guests in one of 197 rooms can enjoy access to their lobby salon and restaurant, which serves its famous afternoon tea daily in two seatings. The hotel's namesake bar and The Fumoir, a swanky champagne lounge, also add to the experience, giving guests two different atmospheres in which to enjoy a pre-dinner cocktail or nightcap. Foodies will no doubt head straight for , the hotel's neo-English restaurant by Michelin-starred chef Simon Rogan, who modernized foraging into a high-dining experience where all ingredients are farmed and sourced locally. Aulis, the restaurant's laboratory-meets-dinner table, seats a maximum of six guests who are lucky enough to dine on dishes that haven't yet graced the Fera menu. Small details are never forgotten here, despite the hotel's bustling feel: McQueen's, the hotel's in-house florist, dressmaker Nicholas Oakwell and Assouline all have shops in-house. And guests that haven't packed for rain need not worry–the hotel offers complimentary use of Burberry trench coats to all guests during their stay.
; Brook Street, Mayfair, London W1K 4HR, +44 020 7629 8860.

Traditional, yes. But this property prides itself on being a chic place to spend the night without the pomp and circumstance of a standard five-star hotel. Actors, fashion's most notable names and icons of all ages flock to this hotel for the privacy and its swanky, sexy vibe. A grand dark wood staircase is the focal point of this property–and Ralph Lauren is said to be so enamoured of its design that he has a replica installed in his flagship store on Madison Avenue. The hotel's cozy feel makes its spacious, grand suites that much more inviting.
Have a sunlit lunch in the lobby restaurant, , which wraps around the front of the hotel in an enclosed veranda or enjoy a working lunch or prix-fixe dinner menu at the two Michelin-starred . Have an after work or pre-dinner cocktail in the lobby bar that's been home to some of fashion's most exciting events–but the cocktail lounge options don't end there. Three speakeasy-like options, (deco and luxe), (quiet and intimate) and the (a hidden gem) await guests looking for something a bit sexier and dimly lit. All guests have access to the sleek Gatsby-esque pool on the spa level, where an program makes top-notch treatments available to guests. Don't let the overall intimate feel fool you–most suites feature spacious sitting rooms and large cozy bedrooms with ornate, molded ceilings. Think: a secret society's private club meets Versailles.
; Carlos Place, Mayfair, London, W1K 2AL, +44 020 7499 7070.
Elizabeth Taylor called the home whenever she was in town, and today's A-listers, like Leonardo Dicaprio, are known to frequent the hotel for junkets, premieres and leisure. Amidst this hotel's welcoming lobby packed with afternoon tea-goers, a Middle Eastern royal clan loading in endless pieces of designer luggage and discreet business lunches, it's likely that nobody would notice a VIP checking in–which is just how they like it. An award-winning afternoon tea is served daily in bar and should be on your bucket list—it's known as being one, if not the best in town. The hotel's main restaurant, features a bold menu of classic options done at their best, like a Caesar salad too good to be lumped in with the heavy-handed versions served in casual American eateries. The Grill has a split personality–the wall décor features double-sided panels that are turned in the evening to create a totally different nighttime atmosphere.
here, like the décor of the floors themselves, are each decorated a bit differently but all blend a colorful, cozy feel with a modern edge. Nothing in this hotel is starved for color–both visually and in personality. The hotel's featured restaurants, Alain Ducasse's Michelin-starred gem just off the lobby (pictured above) and , the chic Asian fusion restaurant-come-nightclub are worth visiting even if you aren't staying as a guest. The newly opened lends a quaint, downtown New York vibe to those looking to grab an expertly crafted cappuccino or a cold-pressed juice on the go. The spa here is both serene and stately, just like the grand ballroom that impresses in it's ability to feel far more special than your average event hall. If you're looking to spend a night here, book it quickly—the hotel is a favorite of those in the Middle and Far East who can afford the price point of its best suites.
; 53 Park Lane, W1K 1QA UK, +44 0207 629 8888.

The sleek, sophisticated, almost boys-club answer to its feminine and traditional sister hotel, The Dorchester, features 45 sharply outfitted suites designed by New York based designer Thierry Despont. A superb steakhouse, , and a are ideal for watching football matches galore. This property has a much more boutique feel for businessmen looking for something more designed than a corporate accommodation or a bachelor who prefers a more masculine feel. In comparison to the eventful Dorchester, 45 Park Lane feels a bit more subdued—ideal for those looking for the service standards of a famed establishment, without the fuss.
; 45 Park Lane, W1K 1PN UK, +44 0207 629 8888.

Luxury trip planner, , is obsessed with this traditional gem in the heart of London. According to these in-the-know agents, the classic hotel's new ownership under the high-end and incredibly impressive , has "reinvigorated the classic hotel to its former glory." With luxurious, Regency-style furnishings, ornately decorated suites and old-world elegance, this hotel is holding on to its traditional roots. Case in point: The Garden Room and its super-masculine, incredibly chic cigar bar. But, modern touches in the form of a glass roof over its French-meets-English dining experience, , and an alternative salon dubbed for meetings and cocktails have them rivaling London staples for superior service, food and décor. Another bonus, according to Sienna Charles, is the property's above-and-beyond concierge: "The concierges were the best we have ever encountered," raved Sienna Charles' founder, Jaclyn Sienna, after a recent stay. "They had genuine knowledge and standing with the hottest restaurants in town."
, Hyde Park Corner, London, SW1X 7TA, +44 020 7259 5599.
Four Seasons at Park Lane
If you're traveling for business or looking for a place to lay your head during a weekend of shopping in Mayfair, you can expect five-star service here, as you can with any Four Seasons property. Eclectic décor inspired by the hotel's proximity to Hyde Park fills the main lobby and spacious event spaces. The dimly-lit, sexy cocktail lounge is a fun place to escape for a pre-dinner cocktail or a nightcap. During your stay, book a table at , where Chef Eliano Crespi is channeling his Italian roots into innovative riffs on flavors he knows all too well. The sommelier at Amaranto, Jack Menoumba, is also one to look out for–flag him for his expertise, he knows the menu inside and out and pairs each dish beautifully.
When the weather permits, opt to dine outdoors or sip some champagne in the restaurant's garden, which has been transformed into a for the summer of 2016. The hidden gem of this property is its . Try the Omorovicza for skin repair, brightening and radiance or a massage in the sky suite (pictured above)—it has a panoramic view of the entire city and with nobody close enough to see in, you'll be able to enjoy your treatments with a view. In addition to standard scrubs, massages and facials, the spa also features a pool, quiet rooms for pre and post-treatment lounging and a cosmetic dermatologist on hand to perform non-invasive procedures like Juvaderm, Botox and more.
; Hamilton Place, Park Lane, W1J 7DR, +44 020 7499 0888.
The third property of , (which also boasts Claridge's and The Connaught) The Berkeley is the younger sister of the elite group's three properties. Located in fashionable Knightsbridge, which is also home to and , this property oozes style—the hotel's chic, newly renovated (pictured above), (a fashion-themed afternoon tea) and the dining experience at , Chef Marcus Wareing's two Michelin-star restaurant, are only a short list of prime examples.
The hotel's less formal dining options, and the (which also just underwent a makeover) are equally as delightful for a meal, day or night. While most metropolitan hotels have spas on the basement level of the property, The Berkeley (like the Four Seasons Park Lane) has theirs on the top floor–including an impressive rooftop pool. The spa's design, rooftop garden terrace (fully in bloom in the summer months) and a partnership with help bring a bit of the calm countryside to the center of the city for guests looking to unwind and get away–even if it's just to the 7th floor. Also new to the hotel: a super-modern glass entryway, luxury suites and marble lobby by architect that set it apart from the old world architecture of Maybourne's (and London's) other properties.
; Wilton Place, Knightsbridge, SW1X 7RL, +44 020 7235 6000.
Yes, it's true: Kate Middleton and her family spent the nights leading up to the Royal Wedding here–for it's proximity to Westminster Abbey, and possibly, its resemblance to Buckingham and Kensington Palaces' traditional English furnishings. While many legendary hotels aim to infuse a bit of edge into their history for a past-meets-present look and feel, keeps it classic. Afternoon tea here is by the book and attracts an older crowd along with a well-behaved selection of tourists and locals (you will likely see quite a few ladylike hen parties here for tea each weekend). A backyard croquet lawn and garden terrace is ideal for those spending time here in the spring and summer–large gardens and outdoor space are rare for London hotels, even at the most exclusive properties. Cozy sitting rooms are included in all of the hotel's bigger suites, but the size and scale of these rooms are a bit more modest on the whole. Despite its royal following, this hotel opts for more of a feels-like-home experience than an opulent palatial one.
; 15 Beeston Place, London SW1W 0JW, +44 020 7396 9000.

Located in a refurbished Edwardian mansion, guests enter this jaw-dropping property through wrought-iron gates and an intimate courtyard, but what awaits them beyond its stately doors is far less reminiscent of a time bygone. An extensive renovation on the Belle Epoque estate pays homage to all of the building's original features, creating 262 bedrooms, 42 luxury suites and worth visiting even if only for a drink. The rooms, suites, event spaces and meeting areas were designed by Tony Chi and Associates, whose aesthetic is far more modern–infusing lacquer, mirror and textured wood into the otherwise Edwardian space.
aims at being a destination for locals and tourists alike, with multiple meeting spaces, , and (the hotel's grocery, takeaway and gastronomic gift shop) designed with local Londoners in mind without rendering themselves too busy for hotel guests to enjoy. The inclusion of Rosewood's signature spa program, , make this hotel a must-see in one of London's more unexpected areas.
; 252 High Holborn, London WC1V 7EN, +44 020 7781 8888.
Not to be confused for the incredibly that also bears its name, this blends its history with modern furnishings designed by Olga Polizzi, featuring suites that feel like an eclectic piece of New England in the heart of Mayfair. Think oatmeal and creams mixed with punches of bold color, loads of books and contemporary accessories and artwork. The hotel first opened its doors in 1837, but aside from the historic facade, lobby and restaurant architecture, the spaces here feel fresh and modern. The Kipling Suite, a recent renovation merging two of the hotel's largest rooms to create one larger penthouse that celebrates English author Rudyard Kipling, is one such venture highlighting the hotels inherent arts culture scene in an unexpected way. A hand-written letter from Kipling penned during one of his stays at the hotel hangs on one wall, and printed English wallpapers and textiles fill the suite. The Kipling Suite is only one of many Rocco Forte's moves to modernize Brown's; Art Weekends, where guests can tour galleries, auction houses museums and more via a walking tour, a newly renovated spa and product line as well as a Nourish program in partnership with chef and nutritionist aimed at offering guests lighter and more nutrient-rich fare at , the and in-room are also exciting new additions.
; 33 Albemarle St, Mayfair W1S 4BP, +44 020 7493 6020.
This hotel is old school. A Picadilly landmark, has always been a destination for the international elite–and today, it's no different. Its décor, location and make it worth a stop in for drinks or afternoon tea, even if you're not a guest, and its proximity to prime shopping, and Picadilly Circus are worth noting. The hotel's (pictured above) and the suites–both located in the William Kent House, the 18th Century estate connected to the hotel–are as close as one will likely get to a stay in Buckingham Palace. The furnishings are breathtaking as are the ornate moldings and the spacious sitting rooms, bedrooms and washrooms will soon have you feeling like a princess for a day. After all, both suites were designed for the royals, lords and ladies who once stayed in them. Call us old fashioned, but nothing really beats walking up to your butler pouring your morning tea, enjoying it in your own private drawing room and then hopping into the hotel's Rolls Royce Phantom for a day of shopping, exploring and gallery hopping.
; 150 Piccadilly, London, W1J 9BR, +44 (0) 20 7493 8181.
Ever wonder what London's many bridges, landmarks and the River Thames look like from every angle at any time of day? If so, this hotel situated in a section of the UK's tallest all-glass building (it used to be the tallest in all of Europe, before Brexit) is undoubtedly the hotel for you. It's location inside a skyscraper slash office building makes the vibe of the hotel a bit more corporate; and while designed for maximum convenience, this hotel's high-design is entirely in its architecture.
Waking up or taking a swim in the sky (this property has a beautiful pool as well) has its benefits, particularly if you're looking for a high-end hotel in the South of London, where the options are nowhere near as abundant as they are in Mayfair. During your stay, make a reservation at , the hotel's restaurant that infuses Asian influence (albeit sparsely) into well-prepared, modern dishes. After your meal, have a cocktail at , the chic cocktail lounge on the hotel's top floor.
; 32 London Bridge Street, London SE1 9SG, +44 020 7 234 8000.

, created in the Covent Garden district to cater to elite theater-goers in need of a place to rest their heads, feels like two hotels merged into one–and it basically is. One side of the hotel boasts Edwardian interiors (pictured above), the other Art Deco décor, meeting in the middle in a with an en suite pastry and chocolate shop, restaurant and two swanky bar scenes. Being the first big hotel in a big city has it's pros and cons–renovations are currently being done on some of the hotel's largest suites, and they have recently done a revamp to their restaurant concept to cater to the demands of hotel guests and locals alike.
The size of the hotel is impressive–267 rooms, multiple event halls and ballrooms, multiple dining options (including the historic ), a spa with a swimming pool and a small row of shops require as much space as you'd imagine–and yet the quality of service has remained the same for as long as the hotel has been in business. Being a Fairmont-managed hotel gives frequent travelers an idea of what to expect (they also manage the Plaza Hotel in New York City). If you are looking for somewhere conveniently located to the Covent Garden shows you plan to see during your stay, the service here will not disappoint.
; Strand, London WC2R 0EU, +44 020 7836 4343.