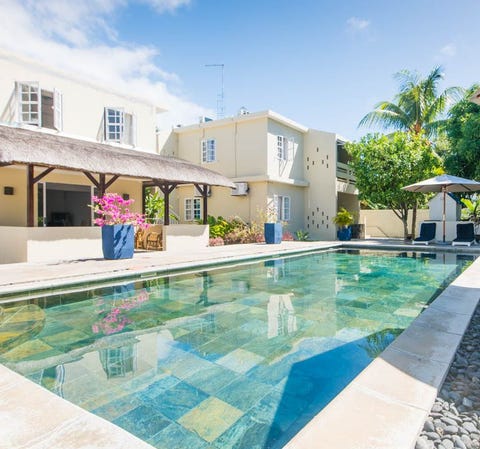 Summer is the ideal time to take a vacation, but hotel prices, on the other hand, are usually less than ideal. recently released its second-annual Traveler's Choice Award winners, and these 10 rentals swept the "affordable" category. But that doesn't mean they're just low-priced — they offer some killer amenities, incredible views, and don't require you to sleep on stiff, cheap-motel sheets. Whether you want to go somewhere exotic, romantic, or adventurous, there's something for you on this list.
New headboard inspiration: shelves on shelves of books. This two-bedroom apartment is conveniently located between the Colosseum and the Termini train station.
From $64/night

We can think of nothing better than a house that's literally steps from the sea in Sicily. It's got two bedrooms and two bathrooms, so it'll comfortably house your whole fam, or a group of your friends.
From $83/night

We're not always down to cook on vacation, but this gorgeous kitchen makes a serious case for it. Bonus: It's got breathtaking sea views.
From $81/night

This luxury condo sleeps 8 and has a ton of resort amenities. Enjoy 5 pools, a game room, gym, BBQ area, recreation center, basketball court, massages, and more.
From $48/night
If you've been dreaming of traveling to India but are terrified of the cost, check this two-bedroom house in Goa. It's close to stores, markets, and world-famous beaches, and it's insanely affordable.
From $25/night
Have your own version of The Holiday in this charming English cottage*.
*Jude Law not included.
From $51/night
The exotic vacation of your dreams can actually be a reality. When you check out how cheap this Indian ocean retreat is, you'll be on the next plane.
From $65/night
Game of Thrones fans, here's your chance to visit Kings Landing ... er, Malta. This two-bedroom apartment is a steal.
From $42/night
This romantic log cabin comes with its own fly-fishing lake. There's also a hot tub with views overlooking the lake.
From $95, night
Imagine waking up to this view everyday. You might never come home, and honestly, we can't blame you.
From $149/night