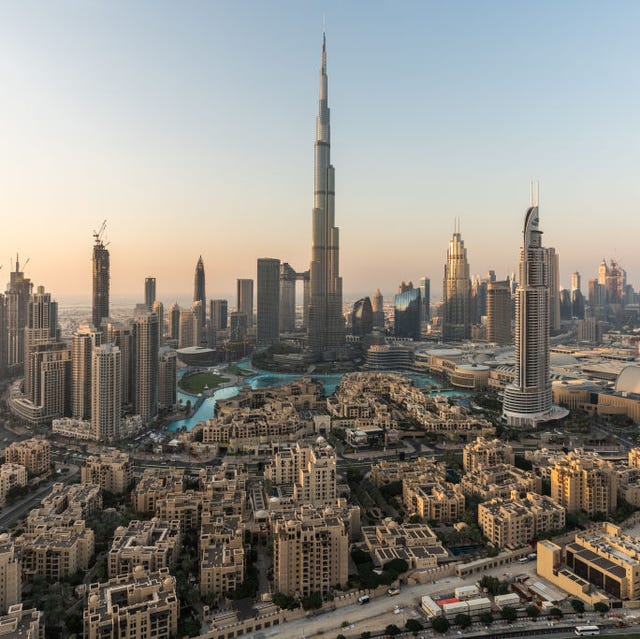 If you haven't already put Dubai on your travel bucket list, you need to do so, immediately. Especially if you're into design. The architecture alone is enough to pull you in (did you know Dubai is home to the world's tallest building?), but there's so much more to see. From furniture shopping to browsing the souks, to countless art galleries and exhibitions, there's no shortage of experiences to satisfy the design lover's need for culture and inspiration.
So, where should you go? I spoke with experts at Emirates to nail down the eight places you must see in Dubai if you love decorating and architecture. Without further ado...
Including the Burj Khalifa, aka the world's tallest building, on this list was a no-brainer. The building, which stands at about 2,716 feet tall, is an iconic piece of the downtown Dubai skyline. Whether you're admiring the architecture from the outside, or taking in the incredible views on the 124th and 125th floors, there's plenty to see.
Pro tip: Bring a portable charger―you'll want to take a lot of pictures.
Aside from the world's tallest building, Dubai is also home to the world's largest picture frame. Yes, it's as amazing as it sounds. Whether you're driving by to snap a picture or going up in the glass lift and taking in the incredible views of Old and New Dubai, there are plenty of ways to add the Dubai Frame to your itinerary.
At Alserkal Avenue, and industrial area of Dubai that's been transformed into a cultural hub, you'll find countless art galleries, exhibitions and unique furniture shops. And, if you time your trip just right, you could catch the annual Art Week hosted at Alserkal Avenue.
Speaking of Alserkal Avenue, while you're there be sure to stop in at Ikonhouse. At the shop you'll find a wide selection of Scandinavian furniture, lighting and flooring options. Ikonhouse also specializes in home automation, if that's something you're interested in.
If you're looking to do even more shopping, check out Souk Madinat Jumeirah at the Jumeirah resorts. The souk was inspired by traditional Arab markets and is your one-stop-shop for traditional decor. According to the experts at Emirates, you'll find everything from Persian carpets to African sculptures and Arab art here.
Looking for something a little less tourist-y? Consider a stay at the . Opened in 2003, this boutique hotel is a fully immersive experience for design and art lovers alike. Each of the guest rooms at XVA was designed by prominent designers and artists from the area. From the peaceful courtyards to the art gallery and design shop, this is the perfect place to stay for anyone who appreciates architecture and culture.
Design lovers will also appreciate the fashion and arts hub that is the Dubai Design District, also known as D3. At D3 you'll find fashion and art shops, galleries, pop-up experiences, and several restaurants. D3 also hosts Dubai Design Week, an annual festival celebrating creative arts and design. If you're interested in taking in a fashion show, this is the spot for you.
Though the name may not indicate an abundance of design-focused attractions, the Dubai International Financial Center offers visitors high-end art and design galleries such as the , and the . Not to mention the DIFC building itself, which you must add to your bucket list if you're in search of the best architecture in the area.