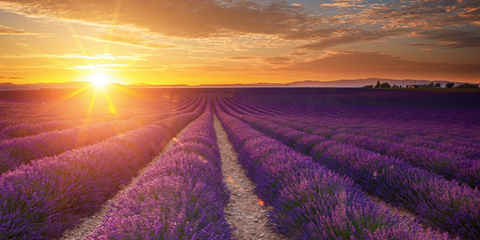 With scenic views, adorable farm animals, and, of course, that amazing aroma, a visit to your local lavender farm is the relaxing getaway you never knew you needed. Lavender is already one of the most heavenly scents out there, but watching (and smelling) thousands of lavender plants bloom at once? It's an unforgettable experience. Peak blooming season is from June to August, but several of these lavender farms are open year-round. It's a good thing, too, because where else could you get pure lavender honey, lavender ice cream, or lavender-infused wine?!
1
Pelindaba Lavender Farm
The farm is open April through October, but for those visiting during off-season, the fields are still open for visitors who wish to walk through and take photos. Visit [link href="http://www.pelindabalavender.com/" target="_blank" link_updater_label="external"]penlindabalavender.com for more information.

2
Purple Haze Lavender Farm
This 12-acre certified organic lavender farm is an aromatic escape found in Sequim, Washington. At , you'll find a gift shop filled with organic products, an ice cream stand with lavender ice cream, and a vacation rental that's available year-round. If you're lucky, you'll spot some of the resident animals, like bunnies, peacocks, and chickens.
The farm is open June through Labor Day. Visit for more information.
3
Hood River Lavender Farm
With over 75 varieties of lavender, the is a popular Oregon tourist attraction and is truly a sight to behold. They manufacture and market all of their lavender products in small batches, ensuring every item is of the best quality. Their lush fields are also the site of the Lavender Daze Festival, which just celebrated its 12th year.
The farm is open May through October. Visit .
, a family owned farm in East Marion, NY, has over 50,000 lavender plants, creating a dreamy view when they're all in bloom. (For blooming updates, head to its .) Guests can purchase fresh or dried lavender in addition to their popular lavender honey, lavender sachets, and more.
The farm is open June through October. Visit for more information.
6
Peace Valley Lavender Farms
Located in Bucks County, PA, the aptly named is where you'll find pure relaxation. Besides enjoying the beautiful sight of lavender in bloom, you can also purchase lavender-infused bath oil and lavender-infused honey in the farm's gift shop. Bonus: The farm also has a live-in Border Collie, ready to greet you!
The farm is open year-round. Get more information at .