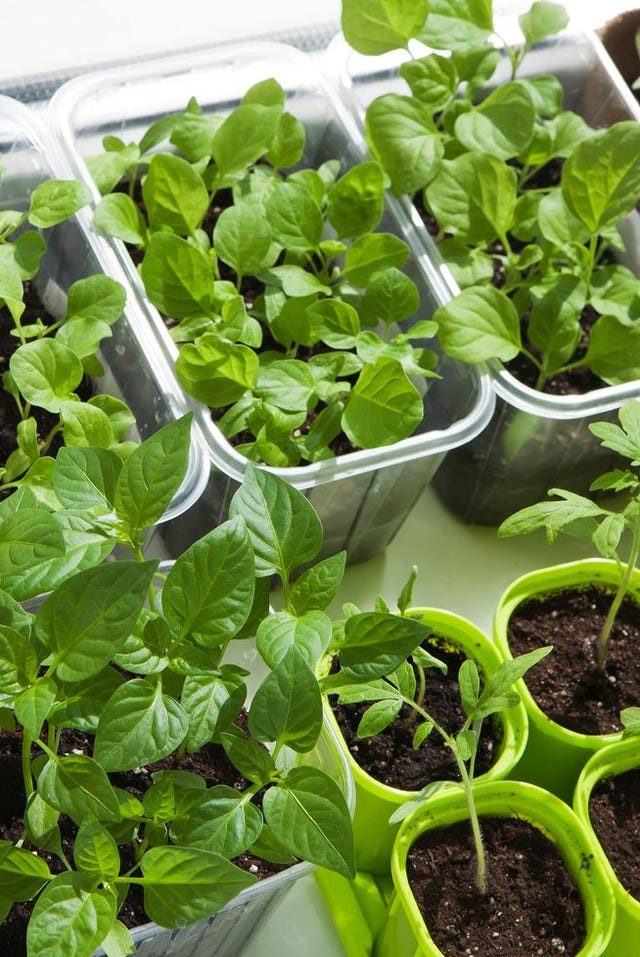 If you live somewhere lacking in outdoor space, you might think that means you can't grow the garden of your dreams. But, you don't have to have a backyard to grow your own food—you just need a sunny window and the patience to wait for your future produce to sprout and grow. There are plenty of vegetables you can grow indoors, even in a small, city apartment, from salad greens and scallions to peppers, tomatoes, and even avocados.
In most cases, you'll need a bright, sun-filled location to grow produce indoors, but you can also get some help from grow lights. (Hot tip: If you want to get serious about your indoor vegetable garden but don't like the look of standard grow lights, GE makes grow lights that look like regular light bulbs. You can buy them on Amazon.)
BUY NOW 12 Assorted Herb Seeds, $11.94, amazon.com
They're not quite vegetables, but growing your own herbs is both a step up from buying them at the store and a good first step for your indoor garden, especially if you're new to gardening entirely. Plus, they'll make everything else you cook taste so much better.
Prefer an easier method? Try these herb grow kits from UncommonGoods.
BUY NOW Scallion Seeds, $5.80, amazon.com
Scallions are such a versatile food, and they're a good option for anyone who wants to start indoor gardening but wants something more low-maintenance. Since they can tolerate low light, they're also a good option for those who lack a sunny windowsill.
BUY NOW 7 Assorted Microgreens Seeds, $14.99, amazon.com
An adorable (and tasty) little addition to salads and perfect for garnishes, microgreens—typically miniature greens from radishes, mustard greens, chard, broccoli, lettuce, and more—can easily be grown at home so long as you have a sunny place to perch them.
BUY NOW 10 Assorted Tomato Seeds, $9.97, amazon.com
No, you're not limited to growing tomatoes outdoors—you can totally grow a tomato plant inside, you just need a spot that gets plenty of sunlight, big enough pots, and stakes or cages to keep the branches upright as they grow.
If you're worried about your green thumb (or lack thereof) you can also try this Self-Watering Tomato Planter, available on Amazon.
BUY NOW Shitake Mushroom Log Kit, $30, uncommongoods.com
Since mushrooms are a fungus and not your typical plant, growing them is a different process, but you can totally grow them indoors. WikiHow has instructions for two ways to grow your own mushrooms at home, or you can try a grow kit, like this one that grows on a log from UncommonGoods, or this mushroom grow kit from Back to the Roots on Amazon, as well.
BUY NOW Meyer Lemon Tree, $19.99, amazon.com
It might surprise you to see lemons on this list, but yes, you can grow lemon trees indoors. In the case of lemons, you can usually buy an existing tree to cultivate rather than planting seeds, and so long as you have a bright, sunny spot and the right-sized pot, you'll be growing your own lemons in no time.
BUY NOW AvoSeed0 Avocado Tree Growing Kit, $10.95, amazon.com
Guac isn't extra when you make it with your own avocados at home, in case you needed an extra push to grow your own avocado tree. You can actually take the existing pit and use one of these grow kits from AvoSeedo to turn it into your very own avocado tree. Pretty simple, right?
BUY NOW 8 Assorted Salad Greens Seeds, $13.99, amazon.com
While you're at it, you may as well start growing your own salad greens—think lettuce, arugula, spinach, and more—so you never have to go to the store to make a salad again.
If you'd prefer an easier alternative to configuring your own salad greens garden, UncommonGoods sells Leafy Greens Garden Jar kits to help you grow them, too.
BUY NOW Cherry Belle Radish Seeds, $2.23, amazon.com
You already know you can grow radish microgreens indoors, but you can also grow full-on radishes inside, too. They grow quickly, and they prefer cooler environments, so they're another good option for lower-light areas.
BUY NOW 8 Assorted Pepper Seeds, $14.99, amazon.com
Smaller peppers, like chili peppers, shishitos, and more, can be grown inside too. To successfully cultivate these colorful, tasty veggies, you'll again need to designate a spot in a bright, sunny window, since they thrive better outdoors.

For help with your pepper-growing journey, try this easy-to-use Triple Peppers Grow Kit from UncommonGoods, or this Self-Watering Pepper Planter available on Amazon.