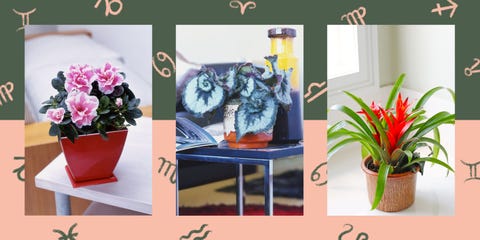 The key to becoming a plant person? Finding ones that truly fit your personality — even if you haven't exactly been much of a green thumb in the past. Since your zodiac sign can inform what your personality is like, we paired different houseplants to each sign so you can find the perfect one for you — or at least, one you can identify with!
Then, once you've built up the confidence to go all out — mercury retrograde be damned — check out The Backyard Homestead to get everything you need to start your own garden.
BUY NOW The Backyard Homestead, $18.95; HearstProducts.com
BUY NOW $10.98, Amazon
As an Aquarius, you tend to be more of an ambivert — sometimes you're shy and quiet, sometimes you lean more eccentric and energetic. A plant like Rex Begonia just gets you, with its uniquely shaped and colorful-but-not-too-bright foliage. It's attention-grabbing, but still subtle.
BUY NOW $12.99, Amazon

Pisces are best known for being unselfish, quiet empaths. They're also easygoing people who accept whatever comes their way. That's why spider plants are perfect for you — they're super low-maintenance and adaptable, so they'll thrive even in the darkest corners of your apartment.
BUY NOW $28, Amazon

Aries, you're totally independent, assertive, and ambitious. You love to travel and go on adventures, so you need a plant that can hold its own while you're off living your wild life, and a sturdy cactus will do the trick. Plus, with your sometimes-prickly temper, you can relate.

BUY NOW $20.99, Amazon

As a Taurus, you pride yourself on being a reliable, trustworthy person who is also detail-oriented and not afraid to treat yourself. Jade plants are perfect for you because they grow at a slow and steady pace and they're not too difficult to care for — not to mention, you'll appreciate all the little details in their leaves.
BUY NOW $24.95, Amazon

Oh, Gemini — with your head frequently lost in the clouds, the air plant is pretty much your botanical soulmate. Since they don't grow roots and don't even need soil to survive, they're as free-spirited as you are. Meaning, you can easily move these plants to different places and planters whenever you want to show off all the different sides of your personality.
BUY NOW $23.99, Amazon

Cancers know that first impressions aren't everything. They're often mistaken as prickly and standoffish, despite being quite intuitive, emotional and dedicated friends. They're adaptable and easy to take care of even if you don't have a green thumb, meaning that, just like a Cancer, they're basically loyal for life.

BUY NOW $29.23, Amazon

Leo, you love to be the center of attention. You're bold, proud, warm, and courageous, and you need a plant that makes as much of a statement as you do. Rubber tree plants grow large and robust, so they're sure to grab all the attention — but not quite enough to steal it from you, of course.
BUY NOW $17.95, Amazon
With your perfectionism and attention to detail, Virgo, you're well-suited to take on the notoriously tricky-to-care-for Azalea plant. Besides, you everything you surround yourself with to be an aesthetically-pleasing extension of your personality, and the azalea is definitely it.
BUY NOW $29.07, Amazon

Libras are kind, selfless, and strive for balance and harmony at all times — plus, they appreciate the beauty in everything. A snake plant, which, by the way, is super easy to care for, is perfect for Libra, since they strike the balance between hardy and Instagram-worthy so well.
BUY NOW $12.45, Amazon

Scorpio, people underestimate your sensitivity and emotional intelligence because of your independence and fearless, tough exterior. Similarly, eoniums seem as hardy as other succulents, but they can be a little trickier to care for than others. Plus, like you, the aeonium values its alone time — as in, it does best in its own separate pot.
Sagittarius: Monstera Deliciosa
BUY NOW $26.95, Amazon

As a Sagittarius, you're creative, adventurous, and free-spirited — so your perfect plant match must be more of the same. The oversized Monstera deliciosa plant, with its unique, bold and vibrant Swiss cheese leaves, is just right for you, and it'll flourish wherever you put it in your home.
BUY NOW $21.99, Amazon
Capricorns focus a lot on the aesthetic side of things, so the Bromeliad plant's unique look is perfect for this sign. Bromeliads will also lean on nearby structures as it grows to soak up more sun and moisture, not unlike how Capricorns sometimes need others to draw them out of their shells (and how they shouldn't be afraid to ask for help when stressed!).