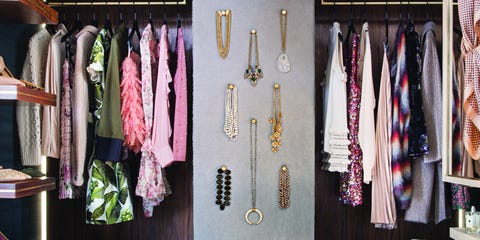 Amy Vischio/ Mixit Inc., Courtesy of Amy Hirsch
Marie Kondo believes reinvention begins with a clothing purge. "Build up your skills here before tackling more challenging categories like mementos," she says. "Imagine what an ideal life looks like. It can be small, like, 'I want to wake up refreshed.' Once you have that, the tidying process will go much more smoothly, and you will be miles closer to living in a calm and peaceful home."
Think of your wardrobe like your own boutique. "Design around your most beautiful items — a jewelry wall, floating shoe shelves, bag cubbies," says decorator Amy Hirsch. With this mindset, you'll know what's worth keeping — and what's not. Once you've narrowed down your most-loved pieces, test out these innovative ways to give them the spotlight they deserve (all while maximizing space, of course).
$20 for 2
BUY NOW

Maintain your Kondo-folded clothes with adjustable drawer dividers from OXO. Nazy Ferdows of Organize Stage Style suggests: "Start by gathering all your items of a specific type, such as socks, to get a true sense of what you have, and plan your storage around that. Then, merchandise like you're a retailer." These dividers expand from 11 inches to 17 inches, fitting snugly in any drawer, and lock into place.
$25 for 5
BUY NOW

A closet of uniform hangers — the ultra-thin flocked ones — is a must, but also indulge in a few special ones for display. Says closet guru Lisa Adams: "These minimal, chic metal hangers are ideal for a staging area, a garment rack in a bedroom, or a dressing space. For displaying clothes, they become a design detail all their own."
$70 and up
BUY NOW
Imagine reaching into a stack of shirts and not having the whole thing come tumbling down. This magnetic stacking system keeps everything in place and on view.
Designate a donation bag.
$20 and up
BUY NOW
Professional organizer Ellen Delap's mantra is "You can do anything for 15 minutes!" Keep a donation bag in your closet, she says. "When you're getting ready for the day and keep passing over that same dress, toss it in."
Proselytizers of best-selling author, tidying megastar, and newly named California Closets collaborator Marie Kondo always mention one powerful tool when referring to their own "Kondo-ing": her signature fold. The move creates "packets" that stand upright in drawers for increased visibility. And with no rifling to the bottom of the T-shirt stack, you can count on lasting neatness.
Follow the steps below to master Kondo's famous fold:
1. Fold one side toward the center.
2. Fold the sleeve to fit within the rectangle's width.
3. Fold the sleeve back flush with the edge of the rectangle.
4 and 5. Fold the other side the same way — almost but not quite to the edge.
6 and 7. Fold in thirds to fit the height of the storage space. Then stand it up! (Try OXO drawer dividers to keep it neat.)
This story was originally published in the March 2018 issue of CQ.