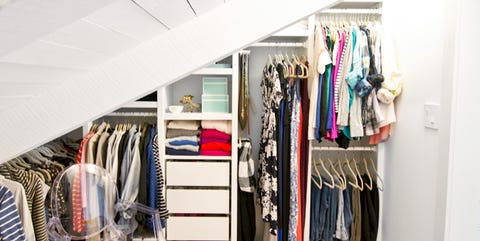 Courtesy of Dorsey Designs
Let's face it: Unless you're an Academy Award winner raking in $20 million a movie, you probably don't have enough closet space. And even then, maybe you don't. (Mo' money, mo' shoes, amirite?) Instead of cutting your clothing collection in half, use these tricks and products to create twice as much space as you had before. You can thank us later.
1
Add Storage Under Clothes
If you're cramped on space, place a small dresser and shoe rack beneath your hanging clothes. The top of the dresser can hold accessories, like hats or jewelry.
See more at Sugar and Charm.
BUY NOW Shoe Organizer, $35, amazon.com
To add additional hanging storage, hang a branch on an empty wall to double as a rack. It's functional and just seriously cool looking.
See more at Sugar & Charm.
BUY NOW Branch Hook, $15, amazon.com
Stack storage baskets to hold shoes, jewelry, accessories, workout clothes, PJ's, and more. You can throw a ton in those bins without making your space look cluttered.
See more at Dorsey Designs.
BUY NOW Storage Baskets, $21, amazon.com
Storing shoes is every girl's nightmare, but don't stress. You can fit more pairs on a shelf when you position each shoe facing the opposite direction. Try some cubbies to help keep everything tidy.
BUY NOW Shoe Organizer, $30, containerstore.com

5
Use A Hanging Organizer
You can double up the number of clothes you store in your closet by adding a second level with a rod. Not to mention it has hooks on the side for purses and other accessories. Even that early 2000s fedora you STILL can't part with (it's never going to happen, okay?!).
BUY NOW Closet Doubler, $18, amazon.com
This sliding organizer, perfect for hanging scarves and belts, ensures easy access to the depths of your closet. And it's totally easy to DIY yourself!
Get the tutorial at The View Along The Way.

7
Use Specialized Hangers
Buying custom designs will better fit the particular piece of clothing you're organizing. Pants, for example, can easily slide on and off of these hangers thanks to their open-ended design. And you'll be able to fit more into your closet, since they hang flat against each other.
BUY NOW Hangers, $12, amazon.com
Too many shoes and not enough space? Make use of little-used door space by offering each shoe its own S-hook.
See more at Mariaemb.
Shelf dividers create organization where there was none before. Plus, the sides let you stack piles higher without fear that your sweaters will just topple over and end up on the ground. The worst.
BUY NOW Shelf Dividers, $34, amazon.com
If a swath of nearly identical items choke your overly-full closet, consider giving Stylebook a try. The app helps you log everything you own, and makes it easy create new looks you didn't even know you had. Basically, it's Clueless come to life.
This idea's a little high-concept, but can help fill any closet efficiently. The differing heights separate clothes by type, and ensure longer items won't drag on the floor.
Get the tutorial at The Design Confidential.
Don't worry, your shoe addiction is in good hands. A column of rods can turn an empty wall space into the perfect place for storing high heels.
See more at Stylizmo.
13
Use a Letter Organizer
An acrylic mail file can hold clutches upright, which prevents creases and keeps bags within easy reach. Who would have thought?
See more at Design Darling.