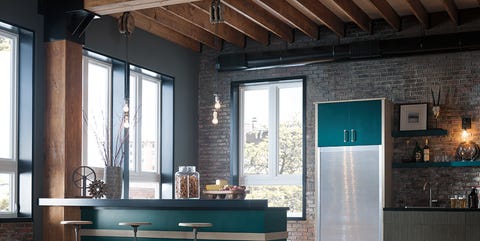 With a new year comes thoughts of how to . And where better to start than in the heart and hearth of the home, the kitchen? Check out the five kitchen trends poised to make a huge splash in 2018.
1
Blue and Green Cabinetry
Expect kitchens to take on moody ocean-inspired shades.
"Blues and greens emerged as 'go-to' color choices for cabinetry in 2017. They are being mixed with other colors, complementing wood stains or even being used as the dominant color alone," according to Stephanie Pierce, director of design & trends at .
, and it's already shaping up to be a major trend in every aspect of home design.
Shannon Zapala, co-founder of glassware brand explains, "One of the popular kitchen trends for 2018 is using bold, unexpected colors [...] such as Ultra Violet, Pantone's color of the year! This dramatic color exudes a feeling of luxury and elegance."
Dark, deep countertops are the order of the day, according to Renee Hytry Derrington, global design lead at .
"Homeowners were intrigued with slate tiles that came in black, dark green and multi-colored rust tones. We wanted to design a slate option for countertops that had the same natural cleft detail— but combined with the growing interest in dramatic black stones. is the result, and one of our most popular designs this year."
The days of monochromatic kitchens are far behind us, according to Sue Wadden, the director of color marketing at . She explains that, this year, it's all about mixing and matching color, no need to keep it all the same:
"Using multiple colors in kitchens has become a popular trend this year. For example, painting base walls or cabinets in a dark charcoal tone and upper cabinets and walls in creamy off-white tones is something we're seeing more and more of."
"Step aside Carrara," says interior designer .
She explains that the newest 'it' look for the kitchen is dramatic marble that makes a statement, noting, "Marble countertops with high contrast bold veining are making quite a statement. It's perfect for book-matching to create intense drama, or doing as a waterfall down the sides of the island. Either way this new trend is one to watch as I think it'll be going strong for years to come.