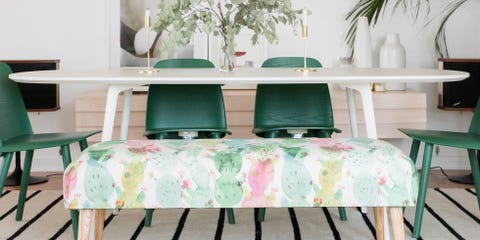 We've never known a Target collaborations to disappoint — and the retailer's new Cloth & Company and Designlovefest partnership is no exception. The 40-item collection ranges in price from $200 to $1,400, and is the definition of happiness. "While creating this furniture line, I was very inspired by my recent travels to Mexico, seeing beautiful tiles, textiles, and desert sunsets," Designlovefest's founder, Bri Emery, said in a press release. "It was important to me to offer a variety of colors and subtle patterns so they could easily fit into any room." The result: 14 playful textiles in 12 silhouettes, all of which we want to own.
$200
SHOP NOW
Infuse color into your formal dining room with these armless, linen chairs that come in four equally vibrant patterns.
$350
SHOP NOW
If you're looking to elevate your entryway, this mid-century-modern-with-a-twist bench is calling your name.
$360
SHOP NOW
You'll wake up feeling inspired when you accessorize your bed with this headboard, which comes in five colorful prints.
$420
SHOP NOW
This accent chair will not only pop in your living room or bedroom, but it also features a bay back for comfort. Talk about a win-win.
$530
SHOP NOW
We've never seen a chair we wanted to curl up in with a blanket and a book more than this corner design.
Pillow Top Armless Love Seat
$800
SHOP NOW
The armless design of this love seat means you can lounge in it if you're hanging solo or cuddle up.