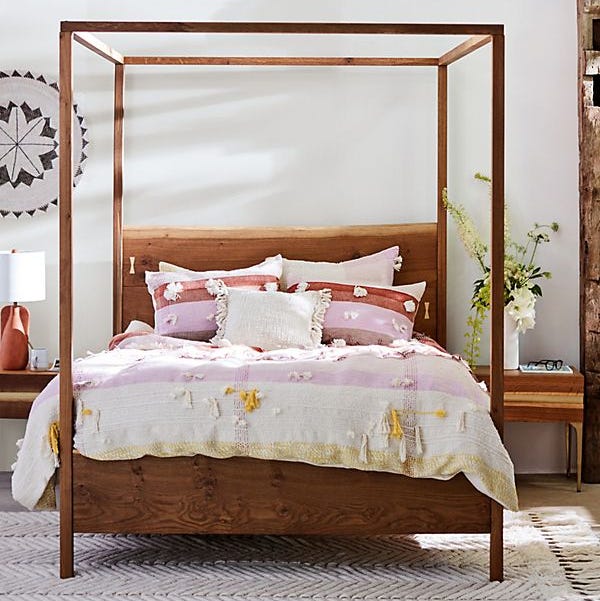 Anthropologie's already the place you go when you want to wander the aisles, imagining a life where you wake up with naturally beachy waves (no matter how far you are from the ocean), your cabinets are full of chic-yet-whimsical plates (perfect for all of those cocktail parties you're going to host, right?!), and your sheets are perfectly rumpled, not wrinkled (and certainly not covered in cat hair and bits of that Hot Pocket you had for dinner last night). Well, now you can get one step closer to living that life for real. For just this weekend, Anthro's hosting an epic sale, offering an extra 50 percent off home items and another 20 percent off select furniture on top of that. You won't see the full discount until you add to cart, but it's so, so strangely satisfying to witness.
All sales are final, so you have to be sure of your purchases before you add to cart, and that's where we come in: The finds below won't leave you with buyer's remorse. Pinky promise.
1
Perfect for: Getting Your Ish Together
Paule Marrot Greenery Deskpad
Sure, you have your iCal, but sometimes, to really get your life in order, you need a to-do list—and the sweet satisfaction of crossing things off of it. This leafy number's inspired by textile designer Paule Marrot's designs, and it's divided into days of the week and an overall list, so you can see your entire Monday-Sunday at a glance.
2
Perfect for: Upgrading Your Blah Living Room
Jack Leather Chair
anthropologie.com
$599.95
Do you need this fly-as-hell chair? Well, need is a strong word, but its midcentury-inspired look will instantly level up whatever room you put it in. It's normally $798, on sale for $600, but when you add it to your cart, it drops to $480.
3
Perfect for: Mother's Day
Shannon Kirsten Conversation Dessert Plate
Why send Mom flowers when you can give her these floral dessert plates, which will (1) last a lot longer, (2) remind her of you every time she uses them, and (3) give you the perfect excuse to pair it with a homemade ? Hello, Mom's favorite child.
4
Perfect for: Perking Up Your Windowsill
Anna-Lise Schmidt Gazelle Pot
You don't have regular plants; you have cool plants. So naturally, they deserve an earthenware pot with just as much personality. (Oh, and if you don't have some greenery in mind for this baby, might I suggest a pink succulent?)
5
Perfect for: Livening Up Your Bookshelves
Kayla Nord Wanderlust Globe
Every #shelfie needs something sculptural to break up that wall of books (plants don't hurt, either!). Painter Kayla Nord created an artistic twist on the classic globe, putting the 'fun' in 'functional.'
6
Perfect for: Adding Joanna Gaines Vibes to Your House
Tufted Geo-Optical Rug
anthropologie.com
$839.95
Remember that geometric rug people went wild for in the nursery Joanna Gaines designed for her youngest son, Crew? This one has all of that texture—and color—and it's seriously discounted. An 8'x10' rug normally costs $1,398, but this weekend, you can snag it for $420. (A 3'x5' has been discounted from $298 to $180, but when you add it to your cart, it'll drop to $90!)
7
Perfect for: Everyone You Know
Monogram Candle
If your mother's china cabinet is already overflowing, don't worry, I have a backup gift—but fair warning: You'll probably wind up buying one for yourself, too. And having your sister harass you for not getting her one. These candles have a soft, citrusy scent that's every bit as elegant as their pearlized, monogrammed containers.
Normally $24, each one's listed for $15, but when you go to check out, they'll drop to $7.50. Can I get a hallelujah?