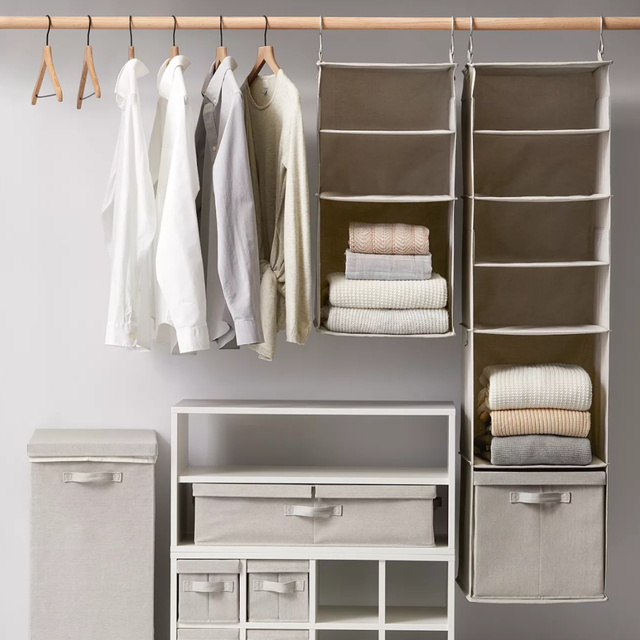 Target is likely already your go-to destination for home necessities (you know, with a side of things you don't need, but will end up buying anyway). And if you are a frequent Target shopper, you know that recently, they've been launching more and more of their own in-house brands. One of those brands is Made By Design, which is full of simple and sleek houseware basics and travel necessities (even luggage!).
What you might not know is that all of these products were designed based on real customer research—the most extensive guest research the brand has ever done, in fact—via surveys, interviews, focus groups at Target's Minneapolis headquarters, and by spending time with customers in their homes to learn about their needs and pain points.
Given the research that went into these products, it's no surprise to learn that many of these Made By Design products—especially in the storage and organizing department—have quickly become popular picks for Target shoppers, racking up rave reviews and high ratings. These 10 products are among the most popular and well-rated, so if you need to up your organizing game, you need to check these out.
1
3-Tier Metal Utility Cart
Made By Design™
target.com
$30.00
A utility cart like this one never goes out of style because the possibilities are endless. Use it to store toiletries in the bathroom, store your craft supplies inside, keep accessories in it in your closet, or even use it as a bar cart.
Made By Design™
target.com
$7.00
Rather than store all of your pants on separate hangers, this tiered hanger lets you organize five pairs at once to free up space in your closet.
3
Over The Door 26-Shelf Mesh Shoe Organizer
Made By Design™
target.com
$20.00
An upgrade on the over-the-door shoe pockets you probably used in your college dorm, this sleek shoe organizer has room for 26 pairs of shoes and looks a whole lot sleeker.
4
3-Shelf Hanging Fabric Storage Organizer
Made By Design™
target.com
$10.00
Take advantage of extra vertical space in your closet by adding a hanging organizer—perfect for holding sweaters and accessories. This one even features adjustable shelves and a hook on the side for scarves or belts.
5
Deep Fabric Bin With Lid
Made By Design™
target.com
$10.00
Upgrade your standard folding fabric bin with one that has a lid, to keep your closet organized and shield your stuff from dust. It also fits perfectly inside the Made By Design cube storage system.
Made By Design™
target.com
$8.00
Mesh allows for airflow (meaning your shoes are able to breathe a little even when they're stowed away) and handles make this bin easy to transport, too.
7
Kitchen Cabinet Pan Organizer
Made By Design™
target.com
$13.99
Use this pan organizer upright or on its side to organize your pans or baking sheets (or both!) however makes the most sense in your kitchen.
8
Stackable Plastic Food Storage Container
Made By Design™
target.com
$6.00
These food storage containers are clear to allow for easy food recognition, plus they're stackable so you can truly organize your pantry any way you see fit.
9
Bathroom Organizer Bin With Handles
Made By Design™
target.com
$5.00
For just $5, you get a simple and durable storage bin for your bathroom to hold whatever toiletries you need. Plus, handles make it easy to carry.
Made By Design™
target.com
$1.00
Coming in at only $1, this small, easy to clean catch-all tray is perfect for keeping your beauty products all in one place in your bathroom for easier access.