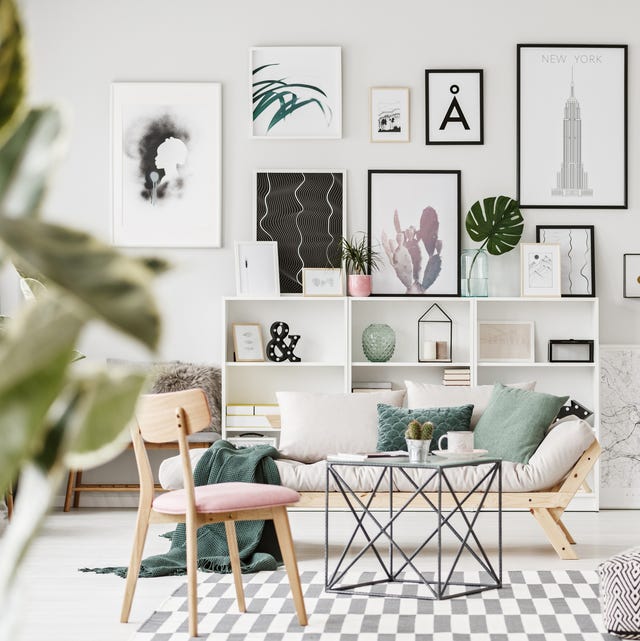 KatarzynaBialasiewicz
Getty Images
Picture frames are one of those things that you expect to be inexpensive, and yet, most of the time when you find one you like in the size you need, the price tag is a lot steeper than you imagined. It's fine when you just need one or two, but when you're creating a whole gallery wall, for instance, that cost adds up. Whether you're hanging posters on the wall or framing small family photos to go on a shelf, finding frames that are budget-friendly can be a challenge, but if you know where to look, you'll never struggle to frame your art again. Shop these stores online or visit them in person to find the right frames for your home without breaking the bank.
Mainstays 8x10 Matted Picture Frames Set of 6, $7.99
Hands down, the cheapest frames you'll find are from the Mainstays line at Walmart. They're perfect if you just want a simple frame and a lot of bang for your buck, and often come in large packs, like this set of six frames for just $8.

Shop more frames at .
Umbra Fotochain Photo Display Set of 3, $22.99
Since Amazon has millions of items to offer, you can find just about any style and brand of picture frame imaginable at various price points. Simple and straightforward or unique and decorative, you're bound to find something you like.
Shop more frames at .
12x16 RIBBA Frame, $7.99+
Before you could buy Ikea's picture frames online, I personally had been known to trek all the way to my local store an hour away just to pick up these RIBBA frames. They come in just about every size and for larger art, are some of the cheapest frames you'll find on the market.
Shop more frames at.
Made By Design Thin Single 4x6 Picture Frame, $2+
Target has a plethora of styles of frames to choose from online and in-stores, but these simple Made By Design frames start at just $2 a pop. If you're willing to spend a tad more for something more decorative and unique, try their .
Shop more frames at .
8x10 Iron Float Frame, $9.99
You probably already know T.J. Maxx is a great destination for cheap home decor, but what you might have missed is that you can actually shop a selection of their items online. Of course, stopping in the store for some inexpensive frames you can't find online can't hurt, either.
Shop more frames at .
Brass Loop Reese Wall Frame, $12.99+
If you're looking for unique, stylish frames that won't totally break the bank, try World Market. You'll find fun frame designs (not to mention, plenty of other cool ways to display photos) for a more wallet-friendly price.
Shop more frames at .
Malden Distressed Frame, $4.99
When in search of cheap home decor, don't forget about Kohl's. The retailer carries tons of stylish options for less, and is constantly having sales, too. Currently, you'll find more than 400 styles of frames to choose from on their site, so you're sure to find the right frames for your home and budget.
Shop more frames at .
Shelby Wood Picture Frame, $6.99+
Another smart stop for discount shoppers? Bed Bath & Beyond, of course. With frames and photo albums starting at just $3 and more than 1,900 products to choose from, the options are basically endless.
Shop more frames at .
Black Belmont Frame with Mat, $5+
Sometimes the best thing you can do when you're on the hunt for cheap frames is skip your usual home stores and go to your local arts and crafts store instead. Michaels is no exception, and you can shop their huge selection of frames with plenty of affordable options online, too.
Shop more frames at .
Emery Wood Gallery Frame, $7.49+
Another art supply store option, Blick carries tons of frames. You'll find some on the more expensive side, but a lot of affordable options, too—and in just about every size and style you can think of.
Shop more frames at .