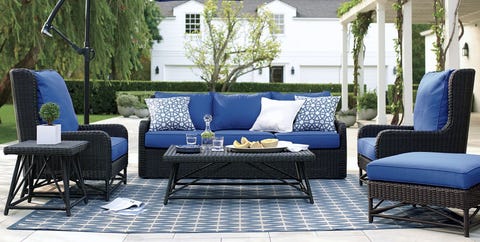 Ah, it's just that time of year when you start dreaming of grilling out every night, lounging on the deck (or by the pool, or okay, on a patchy plot of grass — whatever your backyard situation is) with a glass of rosé, taking in the sunset. Naturally, though, this fantasy leads to a whole -esque dilemma. You'll need a grill. And outdoor furniture. And a bottle, or case, of said rosé. But there's one thing you probably didn't think of — and tbh, you probably felt like you never needed an outdoor rug.
Sure, you don't need one per se, but if you want to know the difference between a haphazard patio that's livable and those chic ones you pin all the time, it's all in the flooring. A rug pulls the space together, making it feel more complete, and it can hide a shabby, in-desperate-need-of-resealing deck.
Crate & Barrel's known for having stunning designs that can weather a whole summer outdoors without getting dingy, and they just so happen to be on sale. These five work with just about anyone's style. Trust.
1
If You Love Moroccan Tile ...
$103 and up, depending on size

Don't let the fact that this is from the Crate and Kids section sway you — that only means the color's a little bit brighter (perfect for sunny outdoor spaces) and that it's designed to be extra durable. Plus, it's reversible, so it'll last you twice as long. It's such a fun, refreshing twist on the same-old rugs that it's quickly become our summer 2018 obsession.
2
If You're Into The Classics ...
$20 and up
If you want to mix patterns but you're afraid of making your backyard look like a three-ring circus (the kids are already good enough at accomplishing that), go for this skinny pinstripe rug. It's intriguing without veering into eye-blinding territory.
3
If You're Feeling Free-Spirited ...
$103 and up
Bold, boho looks are so hot right now (just see Anthro's fringed hammocks and Target's entire Opalhouse line). This style's extra of-the-moment, thanks to its millennial pink touches.
4
If You're Into Coastal Style ...
$16 and up

If you're going for a nautical or Hamptons-y vibe, look no further. This graphic rug is modern and fresh, yet it still gives you a little wash of color. Bonus: It's soil-resistant, making it incredibly easy to keep clean.
5
If You're Feeling Mod ...
$116 and up
We know what you're thinking: Black?! For an outdoor rug?! Hear us out. This graphic design has a punchy, almost pop-art feel, like the next iteration of featured in just about every design mag since 2010. It works indoors and out, and can be rinsed with a hose to keep clean. Win-win.