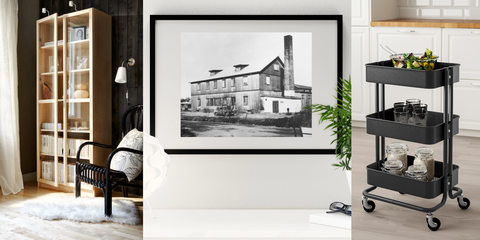 Unless you're lucky enough to somehow miraculously live near an IKEA, you know that getting to your local store is usually quite a journey. (Hey, you need wide open spaces to house all of that square footage!) As a result, for most people, a trip to IKEA is an all-day affair. And then there's the whole getting-lost-in-the-store thing, because it's huge and losing track of where you are is pretty unavoidable. But, despite it all, the trip's totally worth it, because there are some great, must-have (and money-saving!) products you can't find anywhere else.
And as a bonus, you can always stop for meatballs or waffles at the store's restaurant to fuel up before you shop, or reward yourself when you're done (or both — both is fine too). Here are the best-reviewed, most budget-friendly picks in the store.
$59
The BILLY bookcase is one of IKEA's most popular products of all time, and for good reason — after all, it is pretty hard to find a bookcase this big and this customizable at such a low price point.
$12.99
This clothing rack has space for shoes and hanging shelves, and it's totally height adjustable. Did I mention it's only $13?
$69.99
The KALLAX shelf unit series is just about the most versatile product at IKEA: It comes in so many shapes, sizes, and colors. Plus, you can customize the units you choose with drawers, doors, and bins.
$19.99
I have personally took not one but two buses to get to my closest IKEA just to buy a handful of these large RIBBA frames. They're affordable, they look sleek and simple, and they come in multiple sizes — what more could you ask for?
$29.99
This bamboo plant stand is undeniably cute, and it has multiple matching items (including a ladder plant stand and a long, narrow table stand), if you really want to go all out with your plants.
$199
It's hard to find an affordable area rug that's stylish and easy to clean, but the STOCKHOLM rug is exactly that — and that's why you've most likely seen it in several of your favorite bloggers' homes.
$14.99
A totally cute, totally fluffy faux-sheepskin rug (or throw!) for only $15? You'd be hard pressed to find one this good for a similar price anywhere else.
$7.99
LACK side tables may be a little on the plain side (although they do come in tons of colors!), but you can't argue with a side table that only costs $8 — plus, there are tons of hacks for it, if you like to DIY.
$24.99

If you've ever spent even a few minutes on Pinterest, you've probably seen this utility cart pop up. Why? Because it's stylish, it's inexpensive, and it's so useful. Use it as a bar cart, use it as storage in your bathroom, use it to hold plants — you name it.
10
PLASTIS Dishwashing Brush
$1.99
While you're at it, grab a PLASTIS dishwashing brush — your dishes will be cleaner, your sink will be more organized (it suctions right to the counter!), and your wallet won't even feel a difference.
11
FÄRGRIK 18-Piece Dinnerware Set
$24.99
Where else can you find an 18-piece stoneware dinnerware set (in fun colors, might I add) for only $24.99? The trip pays off even if you only buy this — and, okay, maybe a giant cinnamon roll or two.
79 cents
While you're there, you might as well grab a few of these absurdly inexpensive dish towels, which look sleek — and are a workhorse item you'll use every day in the kitchen.