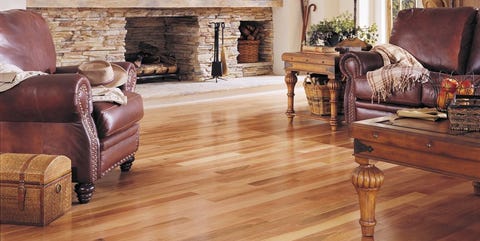 Paradise Tile & Stone
Facebook
When it comes to home renovations, there are few things more stressful than projects taking longer than expected and results just not turning out as you wanted. This is especially true when it comes to replacing old flooring, which naturally causes everything at home to feel ungrounded—literally.
Finding the perfect place to buy your tiles, carpets, or hardwood, and the right installers to do it is half the battle. So, I reached out to our friends at to help us compile the 51 best flooring stores in the US, one for each state, plus one in the DC area. To pull this data, the review website looked at the star rating and number of reviews for flooring showrooms and shops in the home category. Dare I say you'll leave all your renovation projects feeling floored from now on?
"Definitely worth a call if you have a flooring project you want taken care of quickly and without any headaches." - Derek M.
22970 AL-59
Robertsdale, AL 36567
2
Alaska: Sav-On Flooring
"Hands-down the best prices in Alaska. I have been searching for a quality hardwood that can withstand the winters here in Alaska...I would recommend Sav-On Flooring and will be back for a few more projects." - Matt H.
3600 Minnesota Drive, Suite B
Anchorage, AK 99503
3
Arizona: Paradise Tile & Natural Stone
"My new wood floors look fantastic. I really had a great experience with Cosimo Militello. He came to our home right away to measure and review the process with us. They completed the job in the timeframe promised and everything looks terrific. We are very pleased. We strongly recommend Paradise Tile and Natural Stone!" - Sheila B.
15030 N Tatum Boulevard
Phoenix, AZ 85032

4
Arkansas: Abbey Carpet & Floor
"My experience was wonderful. I was able to tell them what I was looking for and was immediately shown samples that met my requests." - Rob P.
2810 S Walton Boulevard
Bentonville, AR 72712
5
California: Tradeway Flooring, LLC
"Excellent selection and very competitive prices. They will work with you for all of your flooring needs and they have everything. I have been coming here for decades and never need to shop around for flooring because they will not be beat." - Marc B.
350 Carlson Boulevard
Richmond, CA 94804
6
Colorado: Coventry Carpets
"Fabulous array of carpeting choices! High quality carpet at reasonable prices. Well-informed staff who have clients' best interest in focus." - Linda M.
2618 W Barberry Place
Denver, CO 80204
7
Connecticut: Schneider's Flooring America
"From start to finish our experience with Schneider's Flooring America was wonderful. From sales representatives to installers everyone is professional—on time, accessible, happy to help and explain, and they do a superlative job prepping and installing. No short cuts." - Nancy A.
400 Talcottville Road
Vernon Rockville, CT 06066
8
D.C.: District Floor Depot
"From estimate to installation, District Floor Depot made the whole experience as painless as possible. When the installers finished, they actually started cleaning the house, including the appliances, and were always careful to avoid damaging anything. The flooring looks perfect and I wouldn't hesitate for a second to call them again for any future work. This is how you run a successful business in a busy city." - Terrel M.
1600 Rhode Island Avenue NE
Washington, DC 20018
9
Delaware: Mike's Carpet Connection
"We were extremely pleased with the services provided by Mike's Carpet. From the Sales Representative to the installation staff, everything was handled in a prompt, friendly, and professional manner. We will be using Mike's Carpet again. Highly recommend them." - Louis I.
1300 Coastal Highway
Fenwick Island, DE 19944
10
Florida: Pride Flooring
"Amazing service always...All I can say is I would definitely use them again! Great choices! Great service! On time! And great install! Very friendly staff! If you need carpet or tile or any kind of flooring this is the place!" - Michelle T.
10790 SW 184th Street
Miami, FL 33157
11
Georgia: Pride N Mine Flooring, LLC
"We are so pleased with our wood floors from Pride N Mine. David and his wife were so helpful with answering questions and matching colors. I was impressed with his knowledge and expertise. His crew was very professional and finished the work a day ahead of schedule. They even did some extras like the toe kick in the kitchen at no charge! We were pleasantly surprised that the total price was several hundred dollars less than we thought!" - Janie G.
Lawrenceville, GA 30046
12
Hawaii: American Carpet One Floor & Home
"Found exactly what I was looking for at a great price—highly recommend! Staff is kind, knowledgeable, and professional. Selection is vast at many price points. If I ever need flooring again, this will be my first stop." - Kristin W.
302 Sand Island Access Road
Honolulu, HI 96819
13
Idaho: Tile Outlet & Granite
"Great company...Vince and team gave prompt, professional, and competitive service. Showed up when they said. Left the place in great shape and finished the job to our full satisfaction early and left the job in perfect shape...Highly recommend!" - Bob K.
2230 S Cole Road, Suite 150
Boise, ID 83709
14
Illinois: Unique Hardwood Flooring
"Beautiful result with my hardwood floor refinishing. Very high quality work. After comparing several different options, I chose Unique Hardwood Flooring, and am glad I did. I would definitely recommend." - Brad P.
1119 W Grand Avenue
Chicago, IL 60642
15
Indiana: Caledonia Stone And Tile
"Very happy with the range of product and prices at Caledonia...Looking forward to purchasing from this business in the future!" - Lianne B.
8481 Bash Street, Suite 800
Indianapolis, IN 46250
"Got the DIY bug? Salvage Barn is THE PLACE to go to get your creativity flowing. They truly have everything. Looking for old metal ceiling tiles? What about a vintage sink? Errrr some wood floor planks from an old house? A cute door? Windows for your next decor project? Every. Thing. Possible." - Hayley B.
2401 Scott Boulevard
Iowa City, IA 52240
17
Kansas: Rigdon Carpet & Flooring
"Wow, best carpet shopping experience ever! Great selection and more importantly friendly, honest customer service...Thanks so much for making this stressful decision a breeze." - Michele N.
3015 Merriam Lane
Kansas City, KS 66106
"This is the third experience we've had with Carpet Mart and each time they've worked with us has been a perfect experience. They carpeted our basement and bound rugs for us in the past. We highly recommend Carpet Mart!" - Penny Y.
9501 Shelbyville Road
Louisville, KY 40223
19
Louisiana: ProSource of Baton Rouge
"Extremely knowledgeable staff. Unbelievable showroom and selection." - Jay M.
10414 Plaza Americana
Baton Rouge, LA 70816
"The most useful tile shop I have been able to find!...They had a great selection of tiles in ALL price ranges. I found many cheaper in store than online as well!" - Jen D.
469 Elm Street
Biddeford, ME 04005
21
Maryland: Floor Concepts & Design
"If you need Floors done this is the place...I have one more floor project to do in my house after this and I will contact Ali right away. I will recommend Ali and his crew any chance I get." - Patrick D.
1335 Rockville Pike
Rockville, MD 20852
22
Massachusetts: LaFauci Tile And Marble
"The folks at LaFauci Tile were extremely helpful, and their patience and expertise were unsurpassed...Great selection of tiles." - Claudia M.
432 Main Street
Watertown, MA 02472
23
Michigan: Ultra Floors
"I would highly recommend them to anyone. They went out of their way to find the perfect floor for me. The installers were quick, professional, and polite. He even let my dog out while I was polishing my nails." - Nancy H.
40210 Hayes Road
Clinton Township, MI 48038
24
Minnesota: Bloomington Carpet One Floor And Home
"I couldn't believe the prices and the customer care we received from this business...Prices were unbelievable and no up charges to do stairs, move furniture, and a slight price difference to upgrade the pad. We were offered and mailed numerous color samples in just a few days...This process was just too smooth as it should be. We will be back!" - Dana C.
503 American Boulevard W
Bloomington, MN 55420
25
Mississippi: The Floor Trader
"The selection of flooring was incredible, but the customer service I received was beyond anything I could have asked for...My experience was over a five star experience and I will definitely be back for future projects." - Jamie A.
12175 Highway 49
Gulfport, MS 39503
26
Missouri: Flooring Galaxy
"Went to Flooring Galaxy looking for some carpet tiles for a basement rec room I just finished. Nice selection and found the right color and style for a better price than the big box chains...Terry was friendly and helpful, you should check them out. It looked like they had a good price and selection of regular carpeting as well." - Lucky D.
2645 South Hanley Road
Brentwood, MO 63144
27
Montana: Western Building Center
"Such knowledgeable sales people. A nice clean store, with an amazing selection of products. The special order process is simple, and delivery—yay—is free, which is not common. I would highly recommend visiting for DIY projects and home construction!" - Kate M.
6130 US Highway 93 S
Whitefish, MT 59937
"Carpet Land sent Jeff over to lay our vinyl floor in our kitchen. He was knowledgeable, kind, and a great worker. Request Jeff you can't go wrong. He was on time and did the work effortlessly. Can't say it enough! We were super pleased with his work ethic and professionalism. Love my floor." - Deanna M.
4301 Industrial Avenue
Lincoln, NE 68504
29
Nevada: Expert Flooring Solutions
"Absolutely recommend this company. Very great prices and great reviews...Tom, the owner, came and personally took the measurements. The installer was very friendly and took his time. The carpet is perfect. Love the color!" - Lisa M.
6485 S Rainbow Boulevard, Suite 100
Las Vegas, NV 89118
30
New Hampshire: All About Flooring
"I can't say enough about how great our experience was with Mike and team...If you want someone who does a great job at a fair price, you will want to contact All About Flooring." - Roberta M.
6R Desforge Lane
Derry, NH 03038
31
New Jersey: Carpets 46
"We purchased a really lovely quality carpet at a very affordable price at Carpets 46. Luke helped us make an educated selection based on our family's needs, and got us in and out of there in 20 minutes. Installation was super quick and we were very pleased with the work. We would definitely use them again and love that this place is family owned!" - Sabrina B.
112 US Highway 46 E
Saddle Brook, NJ 07663
32
New Mexico: Santa Fe Flooring
"These guys are amazing! Hard workers who take pride in their work. Thank you so much for the great looking carpeting." - Nicole M.
1368 Rufina Circle
Santa Fe, NM 87507
33
New York: Class Carpet & Floor Superstore
"A wonderful experience!!! Definitely would recommend and use again. The carpet they installed was the best price I could find and the installers were professional, neat, and polite. Wish my apartment was bigger so I could hire them to do more!" - D.A.
29 Jerusalem Avenue
Levittown, NY 11756
34
North Carolina: Brentwood Flooring America
"Having Brentwood make some custom rugs for my new residence was a breeze from start to finish...The staff is professional and prices and quality are great. Highly recommend!" - Terry H.
4600 Paragon Park Road
Raleigh, NC 27616
35
North Dakota: Lumber Liquidators
"We had great service and got a great price on cork flooring! They provided helpful recommendations on the flooring, insulation pad, and transitions. It added just the right look. We love how it turned out!" - N.S.
3453 7th Avenue N, Suite A
Fargo, ND 58102
36
Ohio: Home Based Carpet & Flooring
"Extremely personable family owned business with a quality product. I had my entire house re-carpeted and could not be more pleased with results. The price quoted had no hidden fees, included removing and disposal of existing carpet, carpet pad, and moving furniture...I highly recommend them" - Cindy H.


Cincinnati, OH 45249
37
Oklahoma: First Step Flooring
"We needed a last minute carpet-stretching and was able to book us on the next business day immediately...Great service and fast!" - Jess C.
8604 NW 112th Street
Oklahoma City, OK 73162
38
Oregon: Paulson's Fine Floor Coverings And Interiors
"WOW.Paulson's went so far above and beyond what they needed to do for me, I would recommend them to any and everyone...You can get countertops or flooring anywhere. It's the personal service that Paulson's provided when there were problems that is priceless. Paulson's even offered to pay to fix many of the issues that they were in no way responsible for. That kind of service is rare these days, and very very much appreciated. I'd use them again in a heartbeat." - Becky F.
1136 SE Grand Avenue
Portland, OR 97214

39
Pennsylvania: Bell Floor Covering
"Bell Floor Covering is hands down my favorite place to buy tile and flooring in Philly. They have a fantastic range of styles and designs (not just your boring builder basic)—and if you don't see it on display, they will find it for you...Go here if you are looking for interesting and unique products, friendly service, and a knowledgable staff. Your project won't look like everything else. Awesome family owned business, too!" - Rachel S.
1050 N 2nd Street
Philadelphia, PA 19123
40
Rhode Island: Valley Floor Covering
"Clean, efficient, and a great price! Very helpful and large selection of carpet, tile, and hardwood. Will definitely use again." - Paul W.
144 Broad Street
Cumberland, RI 02864
41
South Carolina: Abbey Carpet & Interiors
"If you are in the need for carpet or pretty much anything for your home interior and want it done professionally and at a very reasonable price this is the place to go!" - Bobby L.
8102 Two Notch Road
Columbia, SC 29223
42
South Dakota: Country Carpet & Flooring
"Everything looked professional and way better than I could have done. Would definitely hire him for my next flooring project." - Justin F.
414 E Sioux Avenue
Pierre, SD 57501
43
Tennessee: Hardwood Bargains
"Gabe was absolutely top notch from start to finish...He went above and beyond the call of duty, even delivered extra material to my house personally one evening. Can't say enough good things about this place. The product itself is outstanding to go along with the excellent customer service...110% satisfied." - Brendan H.
277 Mallory Station Road, Suite 118
Franklin, TN 37067
"Great selection, great prices and fantastic customer service!" - Sridhar K.
1748 W Anderson Lane
Austin, TX 78757
"I can't say enough good things. Everyone we interacted with at Vama was amazing. They were super helpful and knowledgeable about flooring options and took our budget and busy schedule into account...The new flooring looks stunning! I would recommend them to anyone." - Kelly S.
3789 S 300th W, Suite A
Salt Lake City, UT 84115
46
Vermont: Abatiello Design Center
"The staff at Abatiello was great from the initial design all the way through to the installation of our tiles. Great professionals and exceptional quality! We would use them again in a heartbeat!" - Donna D.
256 N Main Street
Rutland, VT 05701
47
Virginia: Mosaic Tile Company
"Mosaic had a huge selection of tile...Overall, they get an A++ from the showroom to pick up and ability to get tiles within a few days makes them the one stop shop for all my future needs." - David
2644 Barrett Street
Virginia Beach, VA 23452
48
Washington: StoneWorld Seattle
"Friendly, super helpful and patient, great selection, good prices—what more could you ask? We love this place." - Ann N.
6166 4th Avenue S
Seattle, WA 98108
49
West Virginia: Tripp's Floor Sanding And Berkeley Fashion Flooring
"Tripp's is a very well run customer friendly establishment. They accommodated me by providing already finished and painted cherry molding. The representative I dealt with on my project, Valerie, was very accommodating and responsive to my calls and concerns. The price was reasonable and beat the competition in the area. The final product was professional quality." - Matthew S.
6342 Winchester Avenue, Suite 2
Inwood, WV 25428
50
Wisconsin: Floor & Decor
"The selection at this store is second to none in the area. The pricing was competitive compared to other stores in the area. They store your purchases under your phone number and it makes returning unused/uncut tiles a breeze." - Stacy A.
16300 W Bluemound Road
Brookfield, WI 53005
51
Wyoming: Carpets Plus Color Tile
"GREAT customer service and flooring/carpet choices. We received answers to every question—both before and after the sale. I highly recommend Eric and the entire team at Carpets Plus Color Tile!!" - Diane P.
616 N Main Street
Thayne, WY 83127