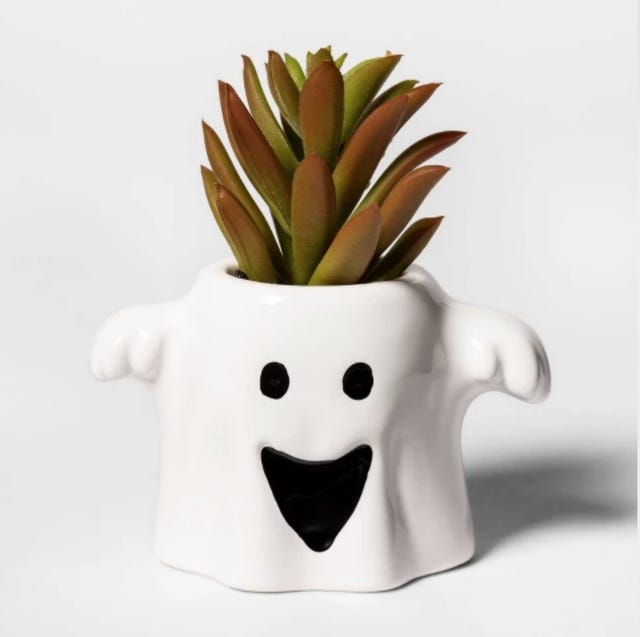 Remember how absolutely adorable the Halloween home decor at Target was last year? In case you need a bit of a refresher, those succulents were a monster mash, all right. This year, they're back and better with a bit of an upgrade and more spooktacular then ever.
Just like last year, these adorable little All Hallow's Eve succulents are just $3. Yes, $3!! But, of course, they're not the only affordable festive decor you'll be taking home. Candy bowls, neon lights, pumpkin decorating kits, placemats, you name it, they've got it and I just can't get enough. Since nothing on this list is over $30, the temptation to buy everything will be extra spooky, but won't leave you feeling nearly as guilty.
1
Ghost Halloween Succulent
I told you! Cuter than ever! And for $3? Casper and friends are coming home with me.
2
Pumpkin Halloween Succulent
The jack-o'-lantern version is just as perfect! Look at those little teeth...I can't handle how adorable.
Light up your life with a boo-tiful and festive neon light. Perfect particularly if you're hosting a Halloween bash and looking to get things glowing.
This glass pumpkin jar is perfect for making your candy the focal point of a room.
5
Pumpkin Ceramic Candy Bowl
Everyone knows one candy bowl isn't enough around this time of year! I say add them all to your cart.
6
Bat Blood Apothecary Jar
My favorite Halloween decor items take scary things (like bats) and make them fun. This apothecary jar, for example, screams G-rated Halloween and I am here for it.
7
Rotating Purple Bats Projection Bulb
Sometimes light displays can be extremely inconvenient with all the cords and setup, but thanks to Philips, you can simply twist in a rotating bat light bulb to liven up your front porch.
8
Jack Skellington Pumpkin Decorating Kit
Decorating pumpkins? This Nightmare Before Christmas kit will transform your squash plant into a delightful Jack Skellington. Jack-o'-lantern Skellington, if you will!
9
Pumpkin Sequin Orange Placemat Set
The easiest way to continue the decor into your kitchen? Opt for some precious placemats like this sequin pumpkin set.
10
Halloween Stemless Wine Glasses
Eat, drink, and be scary with these stemless Halloween wine glasses.