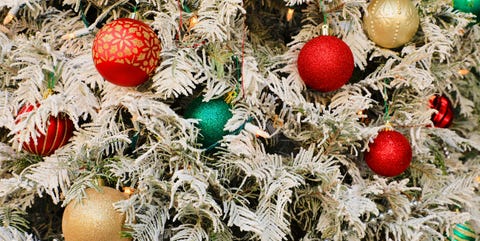 If you're still fighting freezing temperatures in your part of the country, we're guessing next winter is the last thing you want to think about. But now might actually be the perfect time to get a jump-start on all things merry and bright. Home Depot is having an amazing — yes, in March!
While it's still pretty early, certain Christmas items are on sale for up to 75% off. Why not snag those pre-lit trees you've been meaning to replace since three Christmases ago? Shop a few of our favorite items from the below.
1
Projection Snow Flurry Stake
$5
Now's your chance to purchase that snowflake projector you've always envied in your neighbor's driveway. This one easily stakes into the ground and can swivel to face different parts of your house.
2
Pre-Lit Artificial Snowflake Christmas Wreath
$15
How adorable is this snowflake wreath? At 24 inches, you can hang it indoors or outdoors.
3
Inflatable Airblown Plush Teddy Bear
$40
This 11-foot-tall inflatable bear archway will look great when lit up (with LED lights!) in your yard.
4
9 ft. Pre-Lit Artificial Christmas Tree
$117
Say goodbye to stringing Christmas lights yourself. With this 700-bulb, pre-lit tree, your holiday to-do list just got smaller. The original price tag was $469, so you'll save more than $300!
5
Artificial Rolling Tree Storage Bag
$13
Artificial Christmas trees can be a pain to pack up year after year. This 7.5-foot bag on wheels makes it much easier to store.
6
Holiday Shimmer Glass Ornament Set
$13
Spruce up your tree with this shimmering set of 20 ornaments.
$50
Project animated "shows" complete with music onto your house or garage!