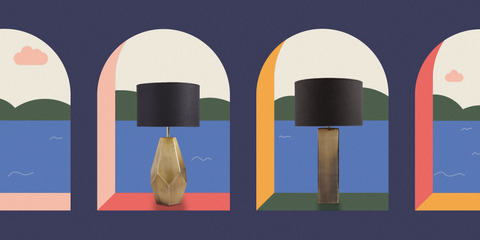 Everyone tends to lean toward a certain style or two — maybe you love all things industrial, or maybe you just can't resist the mid-century look. Maybe you even fall somewhere in between. In any case, it can be challenging to find pieces that are unique and interesting but also suit your style. And items like table lamps, especially, can be difficult to find — not that there aren't tons of cool lamps out there, but if you want something that feels fresh and new, you have to find the right places to look.
Whether your style is glam, boho, minimalist, modern, or somewhere in the middle, there's one out there just for you. Trust. Find your style and coordinating lamp below — and if you're style is more eclectic like mine, just go with whatever speaks to you.
1
Modern: Sphere & Stem Table Lamp
$143, West Elm
The glass globe on this marble and brass table lamp practically looks like it's floating.
2
Contemporary: Gold Geometric Table Lamp
$199.20, Arhaus
The sleek geometric shape of this lamp is so stylish, especially paired with its antiqued brass finish.
3
Minimalist: Helios Table Lamp
$99.99, Urban Outfitters
If you want a pop of color, you can also get this LED ring light with a pink bulb instead.
4
Industrial: Grid Cage Table Lamp
$79, Urban Outfitters
The metal grid cage on this lamp will definitely give your space a cool, industrial feel.
$37.99, Target
Rattan isn't just for beach houses — this lamp can easily fit in any boho space.
6
Mid-Century: Fumi Table Lamp
$48, Anthropologie
The curved gold base on this lamp is to die for, and you can add a little fun by choosing a different color shade (it also comes in pink and blue).
7
Glam: Glass & Brass Pineapple Lamp
$42.74, Target
Glass, brass — this cool, elegant pineapple lamp has it all and then some.
8
Coastal: Whitewashed Rattan Lamp
$69, Pier 1
What, did you expect to see starfish? This whitewashed rattan lamp is a fun take on the usual coastal style.
9
Colorful: Oil Slick Table Lamp
$89, Urban Outfitters
If you like to play with color, this oil slick lamp is for you — it's like a mood ring, but even cooler.
10
Rustic: Wood Brass Table Lamp
$42.99, Target
Go for a rustic vibe with this wooden table lamp with bands of brushed brass.
11
Scandinavian: Wallin Table Lamp
$85.54, Wayfair
And if you're all about Scandi style, this white ceramic and wood lamp should fit right in with your decor.