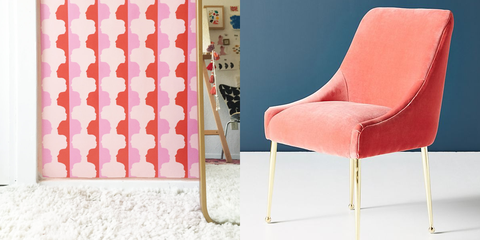 Kate Zaremba Company/Anthropologie
The wait is over: Pantone finally announced their 2019 Color of the Year, and it's Living Coral. The bright, pinky orange is certainly a fun, warm, and poppy color choice, so to celebrate it—and to help you incorporate it into your own home—we've rounded up some of the chicest coral furniture and decor items you can buy.
Cozy up in this coral knit cotton throw—a fun, colorful take on your favorite snuggly sweater.
Add some texture to your wall with this woven wall hanging, which features shades of coral, blush, and white.
An accent chair can do wonders for your home's personality, and this velvet coral stunner is a great option.
4
Backslash Fit Smart Mat
Even your exercise equipment can coordinate with the latest color of the year—and as a bonus, this one rolls itself up when you're done.
5
Mirror Mirror Wallpaper
Kate Zaremba Company
$36.00
You can't go wrong with an accent wall covered in fun wallpaper like this mirrored pattern, and as a bonus, it's totally removable.
6
Seasoned Laurel Ogee Lattice Rug
Area rugs are a great way to add color, and this one has shades of coral, pink, and orange, with blue and purple accents.
7
Coral+ Gold Minimalist Bud Vases
If you're not quite ready to commit to the coral color scheme, you can incorporate it easily with little accents like these bud vases.
8
Raquelle Textured Stripe Pillow
Or, keep things simple and go for a textured throw pillow with just a hint of coral.
9
Coral Reef Spencer Table Lamp
This curvy coral and metal table lamp would look great on any side table.
10
Sauder Eden Rue Bookcase
If you really want to go bold, try a coral bookcase like this one. Neutrals? Who needs 'em.
11
Crosley Coral Canvas Cruiser Bluetooth Record Player
You can even rock out in coral with this exclusive coral record player, perfect for showing off your affinity for trends and the classics.