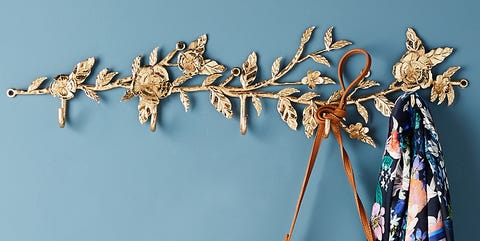 Installing wall hooks—be it in your bedroom, your entryway, or elsewhere—is a great way to add more storage space to your home and keep things organized. But just because they're a practical solution doesn't mean they have to be boring. These decorative wall hooks prove that wall hooks and racks can be an intentional design choice. Some of them look more like wall art than anything else!
This detailed bronze hook rack will look cool in just about any space, and has four hooks at varying heights.
Keep it simple but fun with this gold geometric rack, which features a cool diamond pattern and four sturdy hooks.
This rack doubles as a welcome message to your guests.
Go fully botanical with this gilded floral hook rack, which will look more like a sculpture when there's nothing hanging from it.
Add a natural, almost Scandinavian vibe with these branch-inspired hooks, which are strong enough to hold bulky winter coats.
Design Within Reach
$1.25
If you want something simple and graphic, these geometric hooks from HAY come in a set of three (either in multi-color or untreated wood) and can be arranged any way you'd like.
These clever hooks will remind you to grab your bag before you peace out.
For smaller items like keys and jewelry, this eye hook is a cool statement piece.
These adorable minimal woodland creature hooks are perfect for a nursery or kid's room.
10
White and Gold Ceramic Flower Hook
Hang these up on your wall and they'll hold your coats, bags, and more in full bloom.