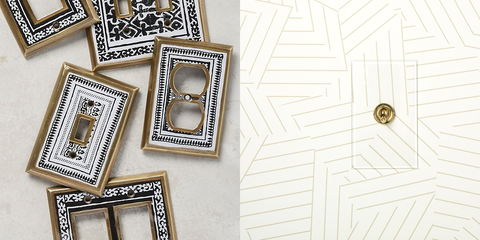 Anthropologie/Forbes & Lomax
Upgrading your switch plates might just be one of the easiest ways to elevate your home. No, you're not stuck with boring, standard white outlet covers and light switches forever—these stylish options are proof. And even if white is working for you, it's worth it to consider some of the more high-tech options out there, like switch plates that have a built-in lighting (or even a phone-charging stand!). These cool switch plate covers will have you itching for a home makeover, but don't worry—they're actually pretty easy to swap in.
1
Hex Brushed Brass Plate
If you're looking for something simple but still interesting, these hex plates add a little geometric flare, and the brushed brass is so chic.
Embrace patterns with these coordinating switch plates that are all slightly different.
3
Shabby Chic Switch Plate
If shabby chic is your style, these decorative white switch plates will add a lot of look for just $10.
4
Bronze and Copper Beaded Switch Plate
Target
$10.99
These bronze-and-copper switch plate covers are totally classic but still have personality.
5
Legrand Radiant Wireless Charger Plate
Pass & Seymour
Amazon
$59.99
This switch plate cover might just be the handiest one on the list—it adds a charging stand for your phone, so you can always have a full battery.
House of Antique Hardware
$19.79
Go for a more ornate, glam style with these decorative switch plates in polished brass.
Who says you can't have floral switch plates? These colorful outlet covers are a fun, bold choice.
8
SnapPower Guidelight Wall Plate
Another handy option: these switch plate covers that have built-in LED lighting, perfect for a subtle nightlight that doesn't take up plug space.
9
Tropical Breeze Switch Plate Cover
These aluminum tropical switch plate covers will make you feel like you're always on vacation.
10
The Invisible Lightswitch
Forbes & Lomax
If you prefer a switch plate that doesn't stand out, try these mind-blowing invisible covers instead.