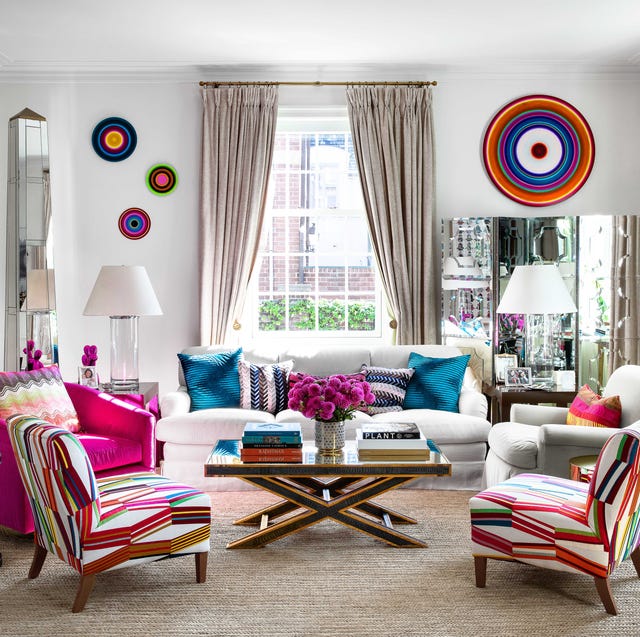 Spills? Dirt? They're pretty much unavoidable. You can be as clean and as careful as you can, but there's always the possibility that something messy will fall or drip or otherwise make its way to your beautiful, clean rug. So, you have two choices: Go with whatever rug you like, and then do damage control by keeping shoes off inside, banning food from the living room, and giving up red wine and coffee altogether. Or, buy a rug that's either made to handle wear-and-tear, or designed in such a way that it can cleverly disguise little stains and imperfections. If you're ready to go with the latter, these stylish options full of pattern and texture (some of which are machine washable!) are for you.
1
Chocolate Brown Solid Shag Area Rug
Unique Loom
amazon.com
$49.99
When it comes to hiding dirt and spills, you can't go wrong with a solid, dark-colored rug with a lot of texture, like this chocolate brown shag—red wine? Doesn't stand a chance.
2
Reversible Multi-Color Area Rag Rug
If a solid—or dark—rug isn't your thing, multi-color rugs are also good at disguising the ghosts of stains past. Think of it this way: there's already so much going on, a little stain won't be noticeable.
Joanna Gaines
anthropologie.com
$68.00
No matter what color route you go, remember that texture is your friend. The more detail on the rug, the harder it is to see small imperfections.
4
Contemporary Sunrise Rug
Stone & Beam
amazon.com
$199.00
A rug with a purposeful aged look won't show wear and tear the way a bright, bold rug might, because that's part of its charm anyway.
5
Connected Stripe Rag Rug
urbanoutfitters.com
$24.00
When in doubt, a black rug can't hurt—a subtle pattern makes it more interesting, while the dark color can disguise most spills. And again, the more texture, the better.
6
Brown and Black Abaca Rug
williams-sonoma.com
$2,199.00
Designer Anne Hepfer swears by the abaca rug in her Toronto home (seen above!), which, according to her, hides spills and has lasted a decade. One like this is sure to disguise stains, thanks to its brown and black speckled pattern.
7
Bohemian Corbett Area Rug
Sometimes, the more color the better. If brighter, bolder hues are your thing, go for a busy, abstract pattern. There could be a stain on this rug right now, but you'd never know it.
anthropologie.com
$1,249.95
Again, color can totally be your friend when it comes to hiding stains, just go with a print that has an imperfect feel—save those precise geometric prints for darker-colored rugs that are easier to clean.
9
Sardinia Charcoal Indoor/Outdoor Rug
Novogratz By Momeni
wayfair.com
$24.99
A rug that's designed to be used indoors and outside is a good choice if you're worried about stains and dirt, because they're made to handle it. Plus, they're weather resistant, so your spilled drink is nothing in comparison.
10
Suzi Coral Washable Area Rug
If you must go with a rug that's a lighter color with a pattern that doesn't quite work in your favor in terms of hiding stains, get one that's easily machine washable. This stain resistant one from Ruggable works in two parts (a rug pad and cover) that can easily be separated to go in the washer.