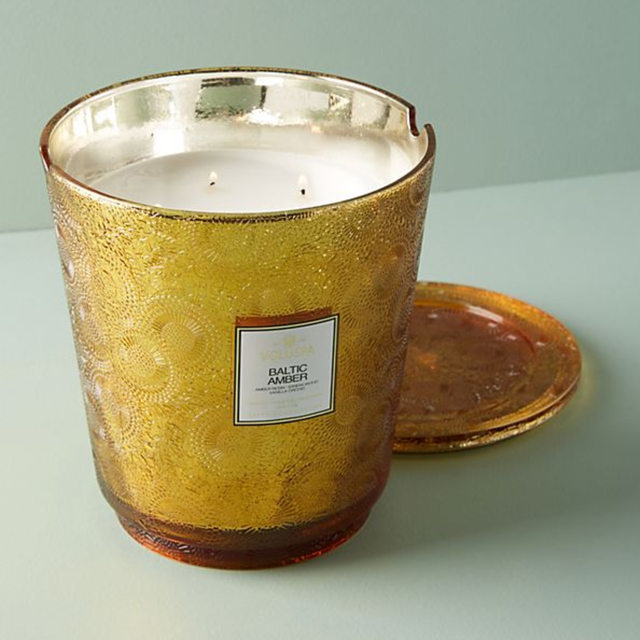 They say bigger is better, and, as it turns out, that sentiment applies to candles now, too. Giant candles aren't exactly a new thing to come into the world, but more and more brands are taking the word "oversized" to the next level. Whether you want to buy (invest in?) them or just bask in their absurdly large glory is up to you, but here they are, from smallest to largest: the biggest, most luxurious candles the online shopping world has to offer.
Caution: Objects in photos are larger than they appear.
1
Santal 26 Concrete Candle
Le Labo
barneys.com
$470.00
This 42.3-ounce candle (for scale, those large Yankee Candle jars? About half the size at 22 ounces) has a burn time of approximately 150 hours and measures 7 inches both in height and diameter.
2
Sicilian Tangerine Luxury Candle
NEST Fragrances
amazon.com
$140.00
At 47.3 ounces, NEST's new Luxury candles are even bigger, and more than double the size of the brand's large 3-wick candles. They have a burn time of approximately 120 hours.
3
Baies Large Indoor/Outdoor Candle
Diptyque
net-a-porter.com
$290.00
Diptyque fans, rejoice—giant versions of your favorite candles do exist, like this 1500-gram (that's just about 52 ounces!) candle that's made for both indoor and outdoor use and has a 150-hour burn time.
4
Flora di Fornasetti Scented Candle
Fornasetti Profumi
trouva.com
$470.00
At 67 ounces, this oversized candle can burn for 200 hours. The iconic Fornasetti design on the ceramic vessel is just a stunning bonus.
5
Lime Basil & Mandarin Luxury Candle
Jo Malone London
nordstrom.com
$495.00
Jumping up to 88 ounces, this Jo Malone candle (also 7 inches high) has a burn time of 230 hours—more time to enjoy its refreshing lime basil and mandarin scent.
6
Giant Japonica Jar Candle
Voluspa
anthropologie.com
$198.00
One CQ editor said that after this 10-inch high, 123-ounce candle burned out (you know, after 250 hours), she and her roommate used the jar as a small wastebasket. Seriously.
7
Colossal Mercury Glass Candle
Capri Blue
anthropologie.com
$142.40
At 130 ounces, Capri Blue's colossal candle is almost the largest on the list, but not quite. It sits in a shorter, wider jar (6.5 inches high and 9 inches in diameter) and has a burn time of 250 hours, too.
8
Madagascar Vanilla Scented Candle
Baobab Collection
amara.com
By far the largest candle here, this cozy, Madagascar vanilla-scented candle weighs in at 7.5kg (about 264 ounces!) and has a burn time of, get this, 800 hours. Eight. Hundred. It's also over a foot tall.