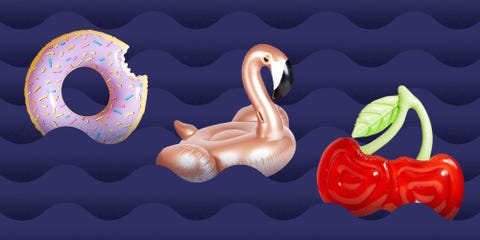 Every year, it seems like the novelty float industry really ups the ante. Seriously, the art of inflatables has really advanced in the last few years especially. Now, food and animal themed novelty pool floats rule all, and it's more of a challenge to find one that doesn't fit your personality than it is to find one you love that's unique — you name it, it's probably already a pool float.
If you want a pool float that's as fun-in-the-sun as it is Instagram-worthy, say no more. Below you'll find the coolest floats out there this summer, from light up swans and giant pretzels to bagels and retro convertibles. There's a little something for everyone here, and all of these floats are guaranteed to make your pool days a little more memorable.
If you can't fly PJ, at least you can float PJ.
2
Swimline Henna Pool Lounge
Swimline
amazon.com
$33.99
This float is the definition of relaxation—perfect for lounging in the pool all summer long!
Sunnylife
sunnylife.com
$70.00
Now you can hang with your new bestie (AKA this llama) all summer long!
You'll look like a literal angel lying on this beauty. It's wide enough that you can really sprawl out, but let's be real: This float is really all about the 'gram.
Sunnylife
sunnylife.com
$50.00
Kim K who? You'll feel just peachy relaxing on this all summer. It's wide enough to fit two people, easily.
6
Melting Ice Cream Pool Float
BigMouth Inc
amazon.com
$19.99
Because nothing says summer like ice cream. The cone is angled perfectly, so you can sit in the innertube and rest your head against it.
Don't be afraid to get a little fruity with your pool float choices — this cherry float is too cute to pass up.
8
Giant LED Light Up Swan Float
If you're a fan of swimming at night, this LED swan will keep you floating on well after dark.
Rosé all day, am I right? With this pool float, you can have your wine and lounge on it, too.
It's not a real jet ski, but you can still take this totally cool pool float for a ride.
Green thumbs will love this pool float, which looks like a giant monstera leaf.
12
Giant Pretzel Pool Float
You could keep this salty pretzel all to yourself, or you can share it with two other friends.
13
Ginormous Dinosaur Yard Sprinkler
This giant T-Rex will make you do a double take. Not because it's so tall, but because it's more than a pool float — it's a sprinkler!
14
Rainbow Pool Float With Cup Holders
Not only is this float just supremely cool, it also has cup holders for your drinks — plus, it could double as a volleyball net if you feel up for a game.
15
Gigantic Pink Flamingo
Want to blow your guests away at the next summer party? Put this 10-foot-tall flamingo by the pool.
If a swan just isn't your thing, try floating around on a colorful peacock instead.
17
Lilac Donut Inner Tube Pool Float
This pool float is so cute, it's almost good enough to eat (and it looks like someone already took a bite out of it — whoops!)
Soak up the sun on an inflatable cactus, and don't worry — this one's not prickly.
19
Pearly Clam Shell Pool Float
Aspiring mermaids, allow me to introduce you to your dream float. It even comes complete with a pearl!
20
Inflatable Pineapple Pool Float
If you love all things pineapple, you need this adorable pineapple pool float.
21
Retro Pink Convertible Pool Float
Now you can drive off into the sunset in a retro pink convertible — or at least, float around in the sun in one.
22
Rose Gold Flamingo Pool Float
It's just like your standard giant flamingo pool float, but way trendier.
Because why wouldn't you want to float around on a giant rainbow unicorn with wings this summer?
If you've ever wished you could hang out on a yacht with a bottle of champagne, now's your chance — well, sort of.
25
Ice Dragon Pool Lounger
Finally, a float perfect for the Game of Thrones fans in your life — this one's sure to make them feel like Khaleesi.
Live your best sea creature life by floating around on an inflatable jellyfish complete with dreamy tentacles.
27
Everything Bagel Pool Float
You can use this float as two halves or one whole, just don't forget the cream cheese!
There are pool floats, and then there are floats that could double as pontoon boats. This is the latter, clearly. It holds up to six people comfortably—and has a built-in cooler.
29
Tropical Tahiti Floating Island
Sun Pleasure
samsclub.com
$119.81
This floating island pool float will bring the party to your (hopefully big enough) pool this summer—don't have a backyard body of water? You can bring this piece of inflatable fun straight to the lake to enjoy some summer fun.