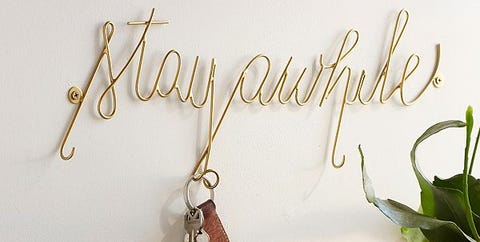 Losing your keys happens to everyone at some point or another, but that doesn't make it any less annoying. Without a designated place to put them, your keys can wind up pretty much anywhere. Giving your keys their own special resting spot like a trinket dish or hooks can help you keep track of them — and it might surprise you to learn that there are some brilliant and cute key hooks out there.
If these clever hooks and organizers aren't enough, technology is still on your side to make sure that you never misplace your keys again.
If you tend to just drop your keys on the nearest surface when you walk in, try assigning your keys their own special dish for safekeeping.
A bold hook with a fun phrase will catch your eye and remind you to hang up your keys.
3
Cloud Magnetic Key Holder
This little cloud is actually a magnet, perfect for holding your keys (and making them look like a little rainstorm).
4
Magnetic Wooden Key Holder
If clouds aren't your thing, try this wooden key holder that works the same way.
5
Light Switch-Mounted Magnetic Hook
Or, try combining your light switch with your key hook by mounting these magnets on the panel.
6
Light Switch Wall Organizer
Take the light switch concept to a whole new level by installing a new light switch cover with built in key hooks and a place to put your mail.
If you're not afraid to get kitschy, this little kitty pops out of its box when you hang things on its tail — you'll hang your keys just so you can see its adorable face.
If a pop-up cat is too much, for you but you still want something cutesy, try attaching this bird to your keys. When you get home, just pop the little guy back into its birdhouse so your keys will be safe.
When all else fails, you can use technology to help you find the keys you do lose. The Tile Mate hangs out on your keyring and connects to an app on your phone to help you locate it (or anything else you're worried about losing!) when it goes missing.
10
Vodeson Key Finder With Remote
If you'd rather not download an app to find your keys, you can use this smart key finder that uses a remote to track them instead.